The Fast-Track to Spanish Fluency
The Best Tips and Tricks for Learning Spanish Quickly.
I distinctly remember the moment when I decided that I was going to learn Spanish. The reasons for my decision are for another post, but the idea of being able to communicate fluently in another language captivated me. I wanted to become as fluent as possible as soon as possible. Fortunately, this strong desire to improve quickly lead me to discover several techniques that anyone can apply to their own language learning journey. As you read on, you'll learn about my favorite methods for learning Spanish and achieving fluency fast.
Beginner Spanish Resources
There are hundreds, if not thousands of methods for learning Spanish. But to get started, you go a long way with the some free and affordable resources.
Madrigal's Magic Key to Spanish ($10-15 New)
If you're just starting out, I highly recommend reading a good beginner's book on Spanish. Madrigal's Magic Key to Spanish: A Creative and Proven Approach is the best in my opinion. Reading will help you build your confidence, vocabulary, and understanding of grammar for other stages of learning. You can even focus on internalizing the thousands of words you already know in Spanish. That's right, there are literally thousands of Spanish words that are either identical, or very similar to the way they are spelled and spoken in English. For example, can you guess the meaning of these Spanish words?:
Internet
Melón
Chocolate
Cereal
Televisión
Sushi
Audio
Música
Gasolina
Plástico
Persona
Hotel
Popular
Laptop
Video
Animal
Hospital
Refrigerador
Café
Calculadora
Teléfono
Celular
Digital
Taxi
Duolingo (Free)
As a beginner, you should couple the reading and grammar practice from Margarita Madrigal with duolingo.com. Duolingo is a free website and phone app that gamifies learning languages. The idea of the game is that language is a tree with various themes on its branches, such as "Basics 1", "Food", and "Subjunctive Past" that serve as language modules that you have to work though in order to continue up the tree. As you make your way up the tree you accumulate points that allow you to level up, which is a number that shows up on your public profile that other players can see how you're coming along in the game.
A study commissioned by Duolingo has shown that, on average, it takes 34 hours of Duolingo to learn the equivalent of one semester of a foreign language in college. While I can see how that may be true after using Duolingo myself, achieving fluency will require more than just using the alone, and I don't believe it will take you farther than a beginner to early intermediate level in any language.
Rocket Spanish ($100-260)
Rocket Spanish is an online program designed to take you from beginner to advanced. It's packed with audio, reading, and grammar lessons to give you variety of resources to help you progress quickly. While significantly more expensive than some of the other options listed, it's a great option for those who are ready to invest in learning Spanish for the long haul. Check out our review of Rocket Spanish here.
My Best Method for Remembering (Free)
Another great way to compliment your reading and Duolingo study is to write down every new Spanish word you come across. I used this method a lot in the first few years of learning Spanish, and it helped grow my active vocabulary more than any other method.
Make a vocabulary list in your phone and review it every night before you go to bed. This way you'll be constantly reminded of words that come up in everyday situations. Which is exactly where your focus should be if you want to learn quickly. Repeat the words in your list out loud. I like to say the name of every new word I encounter out-loud at least three times to help me remember. You'll be surprised how effective this method is as you continue to improve your Spanish.
Moving Beyond Beginner Spanish
As soon as you start to recognize and build upon your current Spanish vocabulary, you'll want to start listening to how casual Spanish is spoken to get a feel for the pronunciation and rhythm of the language. And for that, there are many options that will help you progress.
Podcasts (Free & Paid Options)
Podcasts are great for this. Listening to a podcast in Spanish, even one that is not focused on educating you about the language will still teach you a lot about the pace, accent, and tonality of how the language is natively spoken. Listening is helpful even if you don't understand half of what is being said. After all, listening is the first way children start learning their native language. At first, everything may sound like it all runs together, but little by little you will begin to hear the separation between words and pick out the meaning behind the sentences being spoken.
There are many shows available, but try to find one with transcriptions available. The first Spanish podcast I listened to was Notes in Spanish with Ben and Marina, which is a Spanish from Spain based podcast. I highly recommend them. If you prefer to practice listening to Mexican or Latin American Spanish, check out our show, the Learn Spanish and Go podcast.
Music (Free & Paid Options)
Another technique you can use to speed up your journey toward fluency is to listen to music in Spanish. Pop music is best for a simpler vocabulary. I like to recommend Juanes to beginners as I found that helped me when I was starting out (thanks Señora McGarry!). Juan Gabriel (Mexican singer/songwriter), and Maná (the U2 of Spanish rock) are a couple of other personal favorites. I find it helps to look up the lyrics after getting used to the songs I put on a playlist so I can test what I think is being sung in the song to what the actual lyrics are. These exercises are about helping you improve your listening comprehension, so try to push yourself even when you're just listening to music in Spanish.
Movies and TV (Free & Paid Options)
I can't talk about podcasts and music as ways to improve your listening abilities without mentioning movies and TV. I found this technique especially helpful when watching a show or movie produced in Spanish with English subtitles. I personally can't stand watching shows produced in English with Spanish overdubs, but there is a plethora of other options available. One of my favorite shows is Breaking Bad, and lucky for me, there happens to be a Colombian version of the show called Metástasis filmed entirely in Spanish. "María, llena eres de Gracia" (Maria Full of Grace), "El Laberinto del Fauno" (Pan's Labyrinth), and "No se aceptan devoluciones" (Instructions Not Included) are a few of my favorite movies in Spanish. Try repeating some of the lines you hear as you hear them. It may sound strange, but it really takes practice to get your tongue used to a new language.
Related:
Virtual Spanish Immersion
My next tip is about getting as close to an immersive experience as possible. If you're not ready to take a trip to somewhere where Spanish is natively spoken, your best bet is to make friends with someone who speaks the language fluently and is willing to help you practice. I can really speak to this one, as that's how May and I met. When I decided I was really going to commit to learning Spanish, I told everyone I knew. This paid off big time because that's how I found my first private tutor, who happened to be a co-worker at the time.
Online Lessons (Pricing Varies Greatly)
Announcing my goal of learning Spanish to friends and co-workers is what ultimately led me to resources that helped get me to intermediate and advanced levels. I was lucky enough to have a co-worker who turned me onto italki.com, a website where you can go to meet other people to practice with. Sure enough, one of the first people I met on italki was May.
So, if you can't find anyone to practice with in person, you can always go online and connect with someone in a completely different country than you to practice with.
If you're up for a challenge, you can try taking on Lingoda's Language Sprint promotion. This is a promotion that is available several times each year where you sign up for 45 or 90 Spanish classes over three months and can get up to a 100% refund if you successfully complete the challenge. Check out our in-depth honest review here.
For those who prefer one set price for unlimited lessons, I highly recommend Baselang. Their program gives you unlimited one-on-one classes with native Spanish speakers for just $149/mo. By using our special link, you can get $10 off your first month. And if you don't like the platform, Baselang offers a 100% money back gurantee. They'll even give you an extra $20 for wasting your time.
You can also find some free options by joining online forums Facebook language exchange groups such as this one. There can you participate and potentially find others to practice with for free off of the platform. Native English speakers have a little bit of an advantage here because there are many native Spanish speakers who want to learn English. This makes for the perfect opportunity for an intercambio (exchange).
Embrace Your Mistakes
An additional piece of advice to get you on the fast-track to fluency is this: Don't be afraid to make mistakes. The people who learn languages the fastest aren't necessarily smarter than you, or somehow naturally "better at languages". Not at all. The people who pick up languages the quickest immerse themselves as much as they can through reading, listening to podcasts and music, watching movies, and actually speaking the language without worrying too much about making mistakes. As simple as this advice may sound, many find it difficult in practice because most people are afraid of sounding stupid in public.
It's socially understood that you shouldn't demean a four year old for saying a word or phrase incorrectly, yet for some reason, as an adult who makes a mistake in the process of learning a new language, many of us worry about getting laughed at. This comes from a strange place in our society where somewhere down the line we learned that adults should have everything figured out and be less prone to making mistakes. This is fundamentally wrong, and we should abandon this idea as quickly as possible in order to reach our language goals faster.
Full Spanish Immersion
Finally, when you find the right opportunity to do so, immerse yourself in a country where Spanish is natively spoken. There simply is no other single way that will help you become fluent faster than to surround yourself with people who use Spanish as a way of life, and to force yourself to interact with them.
Try to pick a destination with few English speakers to really push yourself. Generally speaking, this means any area in a Spanish speaking country with little tourism. However, if you find yourself in a place like Playa del Carmen, Mexico where most natives speak at least some English, be stubborn about your desire to speak Spanish. I've been automatically handed the English menu in a restaurant more times that I can count, but all you have to say to the waiter is "¿Me puede dar el menú en español por favor?"
If you make a mistake, the vast majority of people will not try to humiliate you. Sure, they might laugh, but they're more than likely not laughing at you. Mistakes just sound funny to a native speaker in any language. Just laugh off your mistake and explain that you're still learning. The overwhelming majority of people you encounter when speaking your second language will be supportive. So don't take it to heart. You will get better much faster making fifty mistakes a day while you practice speaking than if you didn't say anything at all.
If you've tried the resources mentioned above, consider joining us on a Spanish Immersion Retreat to help take your Spanish to the next level even faster.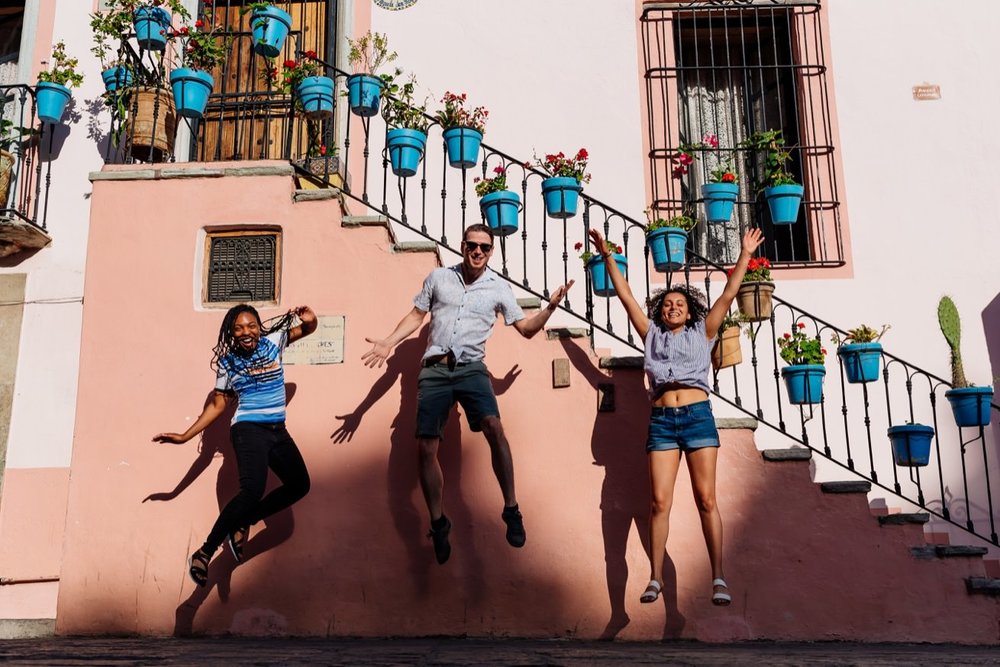 ¡Hazlo! Do it!
On that note, get out there and start practicing! 15-20 minutes a day practicing the above techniques will get you farther than once a week for an hour or two, so make sure you set aside a little time every day to reach your language goals. You can start achieving conversational fluency in a matter of months when you combine the techniques we went over and practice on a regular basis.
Want to really push yourself? Then consider our 30-Day Travel Spanish Confidence course to get you conversationally confident for travel.
Tell us what your favorite ways to practice Spanish are in the comments. What is your favorite Spanish music group, or Spanish movie? We love to hear from you! Also, don't forget to sign up for our newsletter, where you'll get our Spanish Phrase Power Pack of 150+ common words and phrases to Supercharge your Spanish and stay up to date when we release new content.
We'll help you speak Spanish and travel the world.
Get Spanish and travel tips delivered directly to your inbox. Download our Spanish Phrase Power Pack with over 150 common Spanish words and phrases for free when you sign up!
No spam, ever. Only the good stuff.
Related: How I Learned Spanish as an Adult