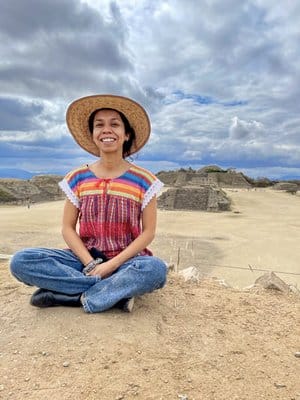 Laura – Assistant Teacher & Guider
Meet Laura, also known as "Lau", the assistant teacher and tour guide for Spanish and Go. Born and raised in Salamanca, Guanajuato, Laura has a deep understanding and appreciation for Mexico's culture and history. With a background in business and experience living in various cities in Mexico, France, and New Zealand, she brings a unique perspective to our Spanish immersion retreats.
As an experienced tour guide, Laura's passion for outdoor activities, playing music, and connecting with people, make her the perfect addition to our team. She is fluent in English, French, and Spanish, and loves nothing more than sharing her knowledge and love of Guanajuato City with visitors. Join our retreats, and let Laura's expertise and enthusiasm help you immerse yourself in the rich culture and history of Mexico.
Madison Rowland-Davis / Content Writer
Madison Rowland-Davis is an artist at heart from Baltimore, MD. She has been working in restaurants since she was 14 years old, but needed a change of scenery, so she decided to drop everything and travel after being inspired by travel bloggers like Jim and May.
When she is not studying Spanish or Portuguese, or dreaming of future travels, she enjoys cooking for her friends and family, doing yoga, and writing bad poetry.
Ana Chávez Arana / Writer, Teacher, Guide
Growing up in the suburbs of Mexico City, my favorite day of the week were Sundays, when my family and I would get in the car, travel for one hour and arrive to Centro Histórico, the Old City. There we would go to theaters, museums, and restaurants that opened up a new world to me. As a History student at university my enthusiasm for the city was such that I started giving tours.
After some years of helping travelers acquaint themselves with Mexican culture, I decided to take this role further and train as a Spanish teacher. Whether touring or teaching, I see my job as as a way to guide people into my culture, which I am so passionate about.
Learn about our story and how Spanish and Go can help you achieve your goals.
Supercharge Your Spanish
Download our Spanish Phrase Power Pack with over 150 common Spanish words and phrases for free!
The Learn Spanish and Go Podcast