All About Mexican Pesos (MXN) – Getting Used to Mexican Money
Spanish and Go and CardRatings may receive a commission from card issuers. Spanish and Go and CardRatings may receive a commission from card issuers. Some of the credit card offers that appear on this website are from advertisers, and compensation may impact how or where the card products appear. This site does not include all card companies or all available card offers.
Before you visit Mexico, it's helpful to familiarize yourself with the currency you're going to be using on your trip. In this article, we're going to show you how to get and convert Mexican pesos from U.S. dollars as well as some interesting facts about the almighty peso.
What is a Peso?
The peso is a unit of currency in a number of countries and is the official currency of Mexico. A peso in terms of Mexican currency is a Mexican peso (sign: $; code: MXN) or peso méxicano in Spanish. One peso is the equivalent of one-hundred centavos (100¢ MXN).
Modern currencies that used the "peso" have a common origin in the Spanish dollar from the 15th-19th centuries. If you've ever wondered why pesos use the same symbol as the dollar, it's because they share a common history.
Peso in Spanish literally means "weight," and originally referred to the Spanish real de a ocho, or "royal eight-real coin." In the 19th century, the Mexican peso was equal to 8 reales. The term "peso" in this context used to refer to pesos oro (gold weights / gold peso) or pesos plata (silver weights / silver peso).
The gold content of the peso has varied over time. In 1821, the peso contained 2.48 grams of gold, but by 1873 it only contained 1.92 grams of gold. The gold content of the peso increased again in 1900, when it was fixed at 2.5 grams of gold. (This was the same gold content as the earlier Spanish real de a ocho). Since 1900, the gold content of the peso has remained fixed at 2.5 grams.
These days, pesos in circulation contain no gold or silver. Like the U.S., who stopped producing gold coins in 1933, and silver coins in 1965, Mexico stopped using precious metals in their coins shortly after in 1967.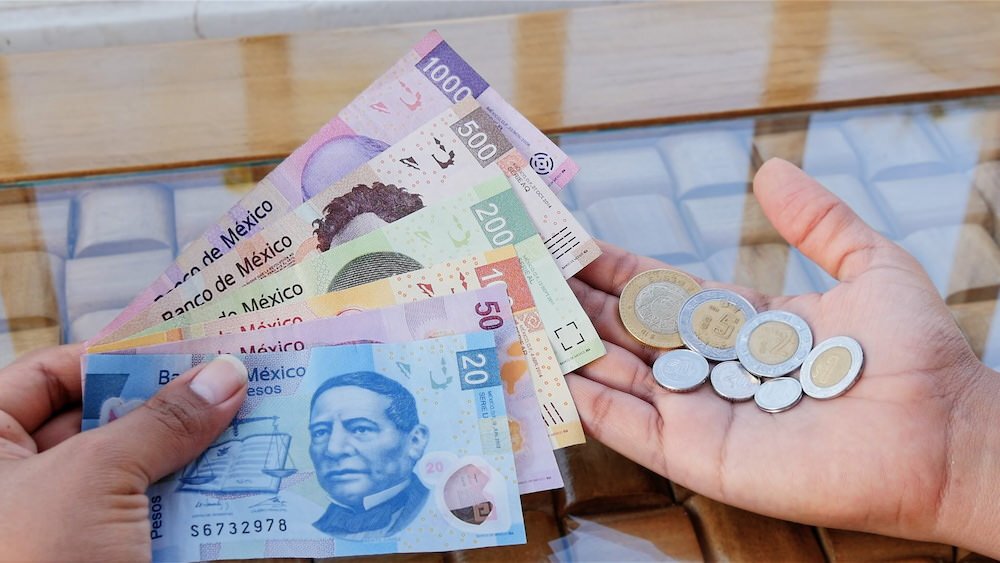 Mexican Peso Symbol and Abbreviations
One common way to distinguish whether the "$" symbol refers to dollars or pesos is with the addition of MX before the "dollar" or "$" sign. An alternative to this convention is by adding the "MN" after the the value is written, e.g. $100 MN. The MN stands for Moneda Nacional, which means "National Currency."
If you're searching for real estate, you may see "mdp" after the value. This refers to millions of pesos. For example, 3.2 mdp means 3.2 milliones de pesos or 3.2 million pesos.
MXN is the official ISO currency code for Mexican pesos. For comparison, the U.S. dollar's ISO code is USD and the Canadian dollar is CAD. You can find all of the ISO currency codes here.
How to Get Mexican Pesos
There are a few different ways to get Mexican Pesos. The most common are:
You can exchange currency at most banks before you depart.
You can buy pesos from a currency exchange.
You can withdraw pesos from an ATM when you arrive.
When traveling to Mexico, it's a good idea to have some pesos on hand on arrival to cover expenses like taxis, tips, and souvenirs. Here are some of the most popular ways to get pesos.
Exchange Money at the Bank
Your first option for exchanging for pesos is at certain banks. They usually have an exchange service, and you can use that prior to your trip. Most banks have pesos on hand so you can just go to the bank and get some pesos and you'll be ready to go to Mexico. Smaller banks, however, might take time to order some in so make sure you go in advance in case your bank needs to order them for you.
All major banks offer a currency exchange service. These include:
Bank of America
Wells Fargo
Citibank
Chase
U.S. Bank
Many international banks also offer this service in the U.S., such as Barclays and UBS. It's important to research the fees associated with each bank so you can get the best rate possible when exchanging your money. You should also check the hours and locations that the bank offers its services in order to make sure they are convenient for you. Order delivery times can vary, but most major banks typically advertise a 2-7 business days.
Visit Currency Kiosks
Another way to get pesos is at the currency exchange kiosks that you can find at most airports. These can be at your departure airport or on arrival in Mexico.
You can also find them in most large cities (especially if the city is a popular tourist destination).
Just keep in mind that these kiosks usually have a fee (either an extra fee or one built into the exchange rate) so they aren't the best option if you're on a budget. Airport kiosks are notorious for this.
Use ATMs
Another easy way to convert your money for pesos is at ATMs. This is our preferred way of getting pesos when we are in Mexico. We get better rates when we use the ATM instead of going to the bank or exchanging money at the kiosks.
Just avoid the ATMs at the airport whenever possible. Like the kiosks, the rates you get will be poor.
Use Wise to Convert Dollars to Pesos
Our favorite service for international money conversion is Wise. Wise is a money transfer service that allows users to send and receive money in over 40 different currencies. One of the supported currencies is Mexican Pesos (MXN).
To convert dollars to pesos using Wise, simply create a free account and enter the amount of USD you want to convert. The exchange rate will be displayed, and you can complete the transaction by entering your bank account information.
This is one of our favorite ways of converting USD to MXN because of the ability to lock in the best currency exchange rate and make online payments to locals while we're traveling. This makes paying our local vendors for our Spanish Immersion Retreats a breeze. Wise even offers a debit card that will give you two free ATM withdrawals each month.
The Cheapest Ways to Get Pesos
If you're from the U.S, the cheapest way to pay in Mexican pesos is to not handle them at all! Paying with a travel credit card will almost always give you the best rate with no additional fees because U.S. travel cards generally don't charge foreign transaction fees.
Popular travel credit cards that offer no foreign exchange fees include:
Unfortunately, if you're from outside the U.S., most credit card companies don't offer a no foreign transaction fee benefit.
If you need to get your hands on actual pesos, withdrawing from an ATM using a debit card that refunds your ATM fees is your best option. Since most banks charge $3-5 USD per withdrawal, you can save a ton of money over the course of your travels by using the right debit card.
This is actually what we recommend for most countries as outlined in our Ultimate Guide to Travel Banking.
How to Send Money to Mexico
If you're trying to send money to a friend, family, or loved one in Mexico, one of your best options is with Wise. This can even be a good option if you're trying to send money from your U.S. bank account to an account you have in Mexico while living abroad.
Wise has the lowest fees around, whether you need to transfer $10 or $10,000 USD. Their rates are generally better than PayPal too, which is why they are our go-to option.
However, if you're moving money to purchase real estate, keep in mind that the limit Mexican accounts can receive using this method is $1,976,693.5 MXN (roughly $94,900 USD).
How do you say ATM in Spanish?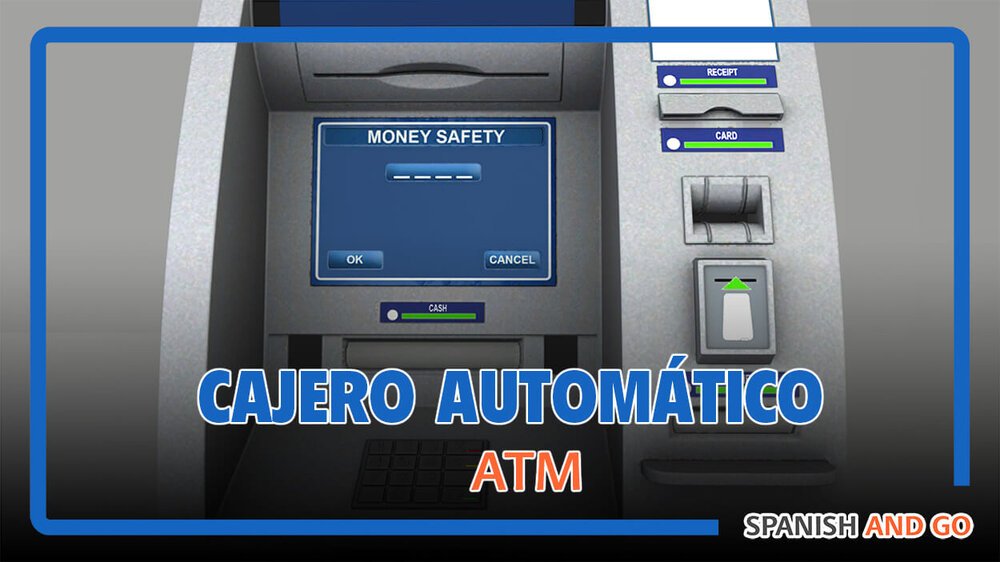 An ATM is called a cajero automatico in Spanish. Sometimes this is shortened to cajero when enough context is given to specify that you are asking about an ATM. Cajero actually means "cashier," so when you say cajero automatico, you're literally saying "automatic cashier."
If you want to ask where you can find an ATM in Spanish, you can say, "¿Dónde está el cajero automático?" – "Where is the ATM?"
Alternatively, you can ask "¿Hay un cajero automático cerca de aquí?" – "Is there an ATM close to here?"
Need more help with directions? Learn more in our article and video about how to ask for directions in Spanish.
How to Exchange Pesos for Dollars
At the end of your visit to Mexico, you might find yourself with some spare pesos that you'd like to convert back into U.S. dollars. We've already shown you the cheapest way to get pesos, but how can you exchange them back for dollars? Here's what you can do with leftover foreign currency.
The cheapest way to convert your extra pesos back into dollars is by bringing them back to the United States. As mentioned previously, banks usually have the best conversion rates, and several larger banks (such as Wells Fargo) are happy to help reconvert your money for you.
With banks, you'll get a far better rate than anything you'll find in Mexico in terms of exchange kiosks. The mark-up is almost always built into the conversion rate. Always beware of exchanges that claim to do it for "no fee."
But if you don't want to go through the extra hassle of converting your pesos, holding on to them until your next trip isn't a bad idea either. Especially if you plan to be back in less than a year or two.
We tend to hold on to some pesos in between trips just so that we have cash as soon as we get back into Mexico. It's nice to not have to look for an ATM right away and have enough money for a few tacos when we land.
How to Convert US Dollars (USD) and Mexican Pesos (MXN) in Your Head
Once you have your hands on some pesos it's helpful to know how much you'll be spending with this easy formula. Right now in 2022, one U.S. dollar equals about 20 pesos. The daily conversion may vary slightly, but 20 pesos to the dollar makes it really easy to convert.
If you're going to buy something that's 500 pesos, all you need to do is:
Move the decimal point over one digit to the left — which will leave you with 50.
Cut that in half. That's how much it is going to be in U.S. dollars.
So, half of fifty is twenty-five dollars.
Technically, 500 MXN = 25.86 USD (at the time of writing), so a rough calculation of $25 is pretty accurate.
If you have 50 U.S. dollars and you want to convert that to pesos, all you need to do is move the decimal point over the other way and double it. So, 50 dollars means adding a zero at the end, giving you 500. Double that and you're looking at about a thousand pesos.
$50 USD = 965 MXN, so, again, that's a pretty accurate quick calculation you can do when you're out and about.
Mexican Peso Currency Denominations
The current Mexican coins in existence are 5, 10, 20, and 50 cents, as well as 1, 2, 5, 10, and 20 pesos.
The current Mexican bills in existence are 20, 50, 100, 200, 500, and 1,000 pesos.
Yes, there is a 20 pesos coin and a 20 pesos bill. The bill is much more common.
The 1,000 Pesos Bill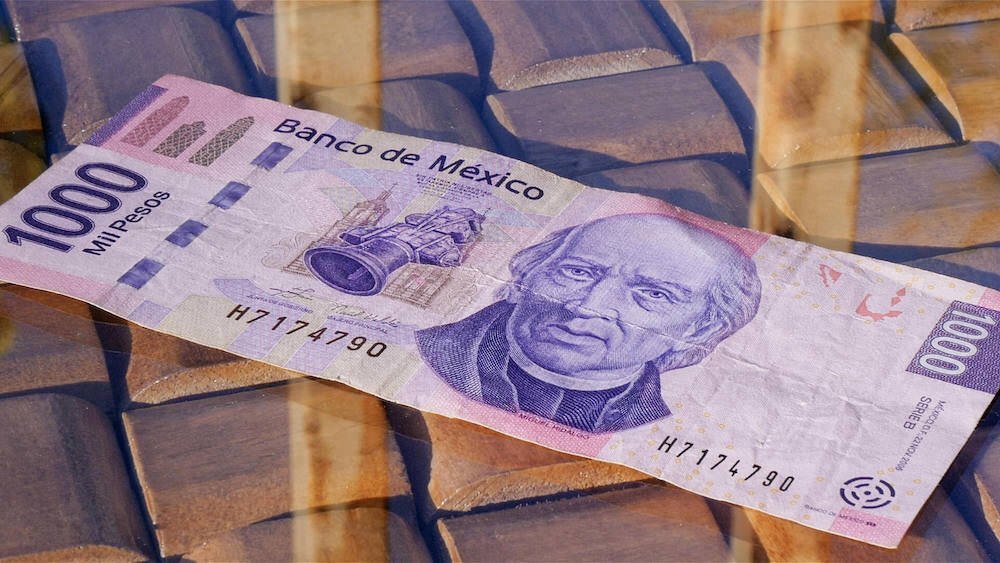 You probably won't get to see this bill when you're here in Mexico because it's not very common, but it is real. However, if you happen to come into possession of one, know that most small stores will not have change for it. (As mentioned above, 1,000 MXN is roughly $50 USD).
Mexican Coin Values
We covered how to convert pesos in your head above, but if you're still stuck, it might help you think about it in another way. In the USA, we have dollars and cents, and in Mexico, there are pesos and centavos (cents). Just as 100 cents make up a dollar in US currency, 100 cents make up one peso in Mexican currency.
To keep things simple, let's say 20 Mexican pesos is roughly equal to one U.S. dollar. Then the Mexican coins you'll encounter are worth:
5 centavos ($0.05 MXN) = $0.002 USD
10 centavos ($0.10 MXN) = $0.005 USD
20 centavos ($0.20 MXN) = $0.01 USD
50 centavos ($0.50 MXN) = $0.02 USD)
As mentioned in the denominations section above, Mexico also has several peso coins. Remember, each whole peso is worth 100 centavos. That means these peso coins are worth roughly the following:
1 peso ($1.00 MXN) = $0.05 USD
2 pesos ($2.00 MXN) = $0.10 USD
5 pesos ($5.00 MXN) = $0.25 USD
10 pesos ($10.00 MXN) = $0.50 USD
20 pesos ($20.00 MXN) = $1.00 USD
Bear in mind, these values are using a conversation rate of $1 USD = $20 MXN to illustrate the rough value of pesos to dollars. This works well for estimating the cost of small items. However, the actual exchange rate varies daily.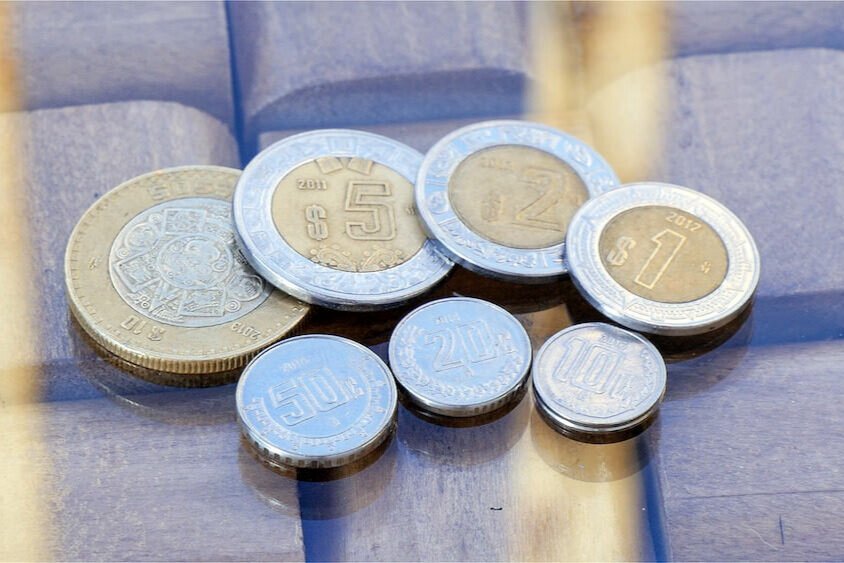 Where to Find the Current Exchange Rate
While the exchange rate has typically and conveniently hovered around $19-22 MXN to $1 USD over the past few years, this changes constantly. For more accurate conversation rates, use a currency converter like xe.com or Google "USD to MXN."
You can also get the current exchange rate by asking a voice-controlled virtual assistant, such as Siri or Alexa, "What is one U.S. dollar in Mexican pesos?" Or, "How much is $500 Mexican pesos in U.S. dollars?"
Inflation in Mexico
Like the U.S., inflation in Mexico has been relatively high in recent years. Consumer prices rose by an average of 8.4% in 2022, according to the country's National Institute of Statistics and Geography (INEGI). This was the highest inflation rate since 2008, when prices rose by 7.3%.
The main drivers of inflation in Mexico are rising food and energy prices. Food prices have been rising due to a combination of bad weather and increased demand from China. Energy prices have also been rising due to higher global oil prices.
While some of these factors are beyond the control of the Mexican government, it has taken steps to try and keep inflation under control. These include raising interest rates and increasing government spending on social programs.
So far, these measures have helped to some degree. However, if food and energy prices continue to rise, it could put upward pressure on inflation and cause it to rise again in the future.
The Mexican Peso has been a relatively stable currency compared to other Latin American countries. This is due to a number of factors, including Mexico's strong economic ties with the United States, and the Mexican government's commitment to maintaining a stable peso.
In recent years, the peso has been fairly stable against the U.S. Dollar, and has even appreciated somewhat. This has helped to insulate Mexico from some of the economic turmoil experienced by other Latin American countries.
The Value of Old Mexican Pesos
Before MXN, there was MXP – the original Mexican Peso. This currency ISO was phased out to make using money in Mexico more manageable. Old Mexican Pesos (MXP) are obsolete. The standard currency you see today in Mexico is what is referred to as the Nuevo Peso or "New Peso" (hence the "N" in "MXN"). This transition from the old peso officially took place on January 1, 1993. Essentially, the new peso erased three zeros off the old peso to clean up the effect of years of inflation.
1,000 MXP is the equivalent of 1 MXN. That's roughly $0.05 USD at current rates.
It's not uncommon for people who have been traveling to Mexico for decades to still be in possession of some old pesos, not realizing that their value is actually much less than what it appears on the bill when factoring in the transition to the new peso.
The old peso bills and coins are no longer accepted as cash within the general population, however, they still can be cashed in for the modern value equivalent in new pesos at the Bank of Mexico.
How much are old pesos worth exactly?
While some collectors might place a higher value on rare or misprinted coins and bills, the value of most old pesos can be figured out quite easily on your own.
Simply follow these three steps to convert old Mexican pesos (MXP) to new Mexican pesos (MXN) and then into US dollars (USD).
Tally up the total of the bills and coins you have
Move the total three decimal places to the left
Enter the result in the MXN field here or by using the currency converter above
Alternatively, you can see the conversion for each of the old Mexican peso bills directly from the Bank of Mexico here.
Is $100 USD a lot of money in Mexico?
A popular question for people interested in visiting Mexico is how far $100 USD goes there. This is a difficult question to answer as it involves many factors such as where you plan to visit and what your standard of living is. But we'll give you an idea of what you can expect for pricing in general in Mexico.
The overall cost of living in Mexico is roughly half that of the United States, so a quick "back of the envelope" calculation for what most things will cost there can be done by taking the price of a similar public utility or living expense in the U.S. (not including electronics) and dividing by two. Obviously, this guesstimation will be different depending on where you plan to visit. Colima, for example, is generally cheaper than Quintana Roo in the same way that Cincinnati is cheaper than New York City.
The average inexpensive meal at a restaurant in Mexico costs roughly $100 pesos (~$4.73 USD), domestic beer is around $30 pesos (~$1.42 USD), and bottled water costs $11.52 pesos (~$0.54 USD). The cost of other typical expenses in Mexico can be found and compared here.
As of Jan 1, 2023, Mexico's minimum wage was raised to $172.87 pesos per day. That means a Mexican working minimum wage would have to work at least 12 days to make the equivalent of $100 US Dollars. So, in short, $100 USD is a fair amount of money in Mexico, generally speaking.
Getting Change in Mexico
One culture shock for many who visit Mexico for the first time is how difficult it can be to find a store or vendor who has change for larger bills. Oftentimes, 200 peso bills and larger will cause more trouble than they're worth when purchasing cheaper items. You'll find that ten-peso coins are often more valuable than they look as it's much easier to get change for purchases using smaller denominations.
This does not mean that larger bills are useless. Just keep in mind that if you're making a purchase that requires getting fifty to one hundred or more pesos back in change to try to use the smallest denominations you can to help assure that you're able to make the transaction.
Often, if you do not have the correct change or close to it, a vendor may ask you to wait a moment while they run next door to see if a neighboring establishment can break a larger bill.
Tips for Spotting Counterfeit Mexican Banknotes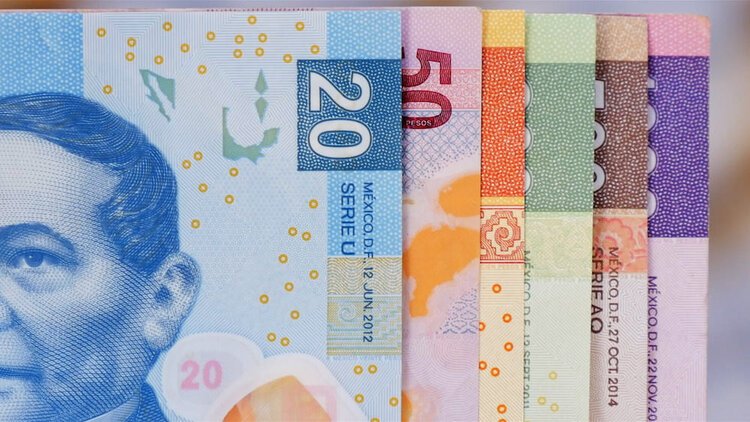 Spotting counterfeit Mexican banknotes can be tricky, but there are a few tips that can help.
First, look closely at the note and make sure all of the details are correct. Check for any discrepancies in the design, such as a missing or incorrect security feature.
Additionally, check to see if all of the colors on the note match up correctly and if there are any inconsistencies in the paper itself. Take special care when examining the serial numbers, as each genuine Mexican banknote should have its own unique number.
Another tip is to hold the note up to a light source and look for any watermark images that might be present.
Finally, observe carefully how it feels in your hand; genuine notes should feel crisp and new while counterfeits often feel slightly rough or worn. By following these simple tips you can easily recognize counterfeit Mexican banknotes.
In our experience, counterfeit currency in Mexico is rare. However, that doesn't mean you'll never come across a counterfeit bill, so you should always be cautious.
Features for the Visually Impaired
Mexican banknotes feature a number of elements to help those with impaired vision identify their bills. These features include raised numbers and letters on each bill, as well as a tactile feature in the shape of an owl's head on the 500 peso note. The raised numbers and letters help those with impaired vision to distinguish between different denominations. The tactile feature, which is in the shape of an owl's head, helps users to locate the denomination without needing to look at it.
Banknotes also feature larger fonts, making them easier to read for those with low vision or other disabilities. Additionally, a special ink has been used that makes it easier for people with impaired vision to recognize color differences between denominations. Also, each denomination is a different length, making telling the difference between bills much easier.
All these features make it much easier for visually impaired individuals to be independent when handling money.
Tipping with Pesos in Mexico
Ever wonder whether you should tip in pesos or dollars? While many touristy cities in Mexico often have restaurants that accept payment in U.S. dollars, it's usually a bad idea to pay in anything other than the local currency.
This is because in Mexico, many establishments that accept dollars are adding a significant markup to the currency exchange rate – often 10% or more. By tipping in foreign currency in Mexico, you'll pay more and pass on the burden of exchanging money to the locals.
Accepting foreign currency is generally less than ideal for the locals because most places in Mexico only accept Mexican pesos as payment. This means that whoever you're tipping will have to spend their time finding a place to convert your tip into a local currency where they'll likely not be getting a great conversation rate either.
Time is money, and currency conversion kiosks are usually a rip-off. In our opinion, it's best to tip in pesos.
How much should you tip? We answer that in our ultimate guide to tipping in Mexico. But the standard for restaurants and tours is generally 10-15%.
What Colors are Mexican Peso Bills?
The Mexican Banknotes are colorful and attractive. They contain the colors green, blue, red and brown. The colors have a special meaning: green represents hope and freedom; blue represents union and justice; red represents the blood of national heroes; and brown represents the richness of Mexican soil.
The colors also represent the five regions of Mexico: Central Mexico, Baja California, Yucatán Peninsula, Gulf Coast and Pacific Coast. All of these colors come together to create a vibrant design that is both beautiful and meaningful to Mexicans.
Additionally, each note has an intricate design that illustrates some aspect of Mexican culture or history. These designs are often inspired by archeological sites, landscapes or cultural symbols such as eagles or cacti. In this way, each banknote serves as a miniature piece of art with both aesthetic value and symbolic significance.
Who's on Mexican Peso Banknotes?
As with the U.S. dollars, Mexican banknotes portray the image of important people from the country's history. In the case of Mexican pesos, the people on the bills are famous luminaries who lived before, during, and after the Spanish conquest.
Who's on the 1,000 Pesos Bill?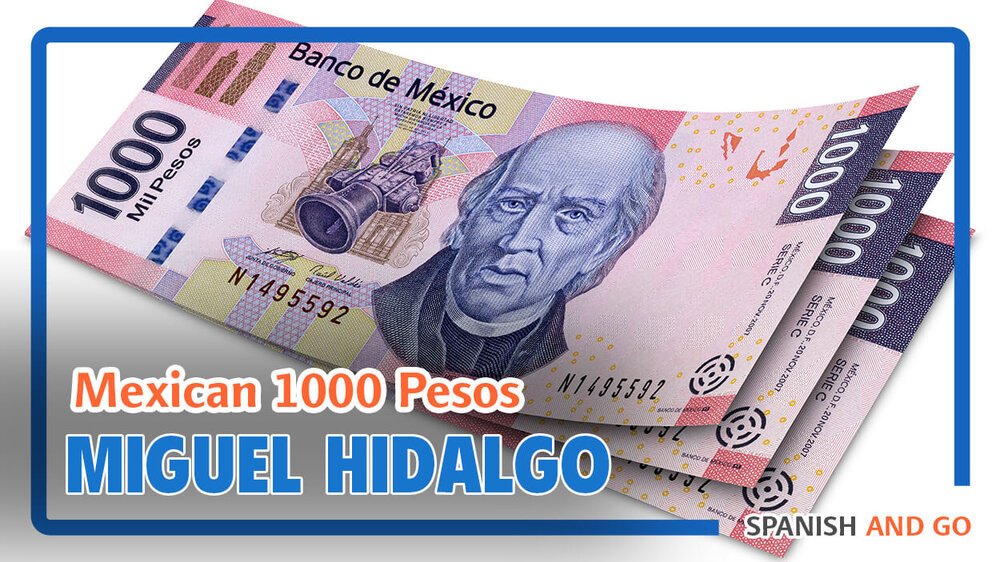 The newest version of the 1,000 pesos bill features former Mexican president Francisco I. Madero, Hermila Galindo, and Carmen Serdán. Madero was a Mexican writer, businessman, revolutionary, and statesman, who became the 37th president of Mexico in 1911. Galindo was Mexico's first congress delegate, and Serdán was a Mexican revolutionary.
The previous version of the 1,000 pesos bill pictured Miguel Hidalgo, a Mexican national hero who was the leader of the Mexican War of Independence.
Who's on the 500 Pesos Bill?
The newest version of the 500 pesos banknote features Benito Juárez, former Mexican president who served from 1858 until his death in 1872. He was the first Mexican president who was of indigenous origin.
The previous version of the 500 pesos bill showed Diego Rivera, a Mexican muralist, and his wife Frida Kahlo, a renowned Mexican artist.
Diego Rivera was born in one of our favorite cities in Mexico. Be sure to check out his museum, located at the house he grew up in, if you visit. Or, join us for a Spanish immersion retreat in Guanajuato to see it on a trip with us!
DIEGO RIVERA WAS BORN IN ONE OF OUR FAVORITE CITIES IN MEXICO. BE SURE TO CHECK OUT HIS MUSEUM, LOCATED AT THE HOUSE HE GREW UP IF YOU VISIT. OR, JOIN US FOR A SPANISH IMMERSION RETREAT IN GUANAJUATO TO SEE IT ON A TRIP WITH US!
Who's on the 200 Pesos Bill?
The 200 pesos bill pictures Miguel Hidalgo and José María Morelos y Pavón, who were both leaders and revolutionaries who fought for Mexico's independence from Spain. Miguel Hidalgo is also known as the Padre de la Patria, or "Father of Homeland."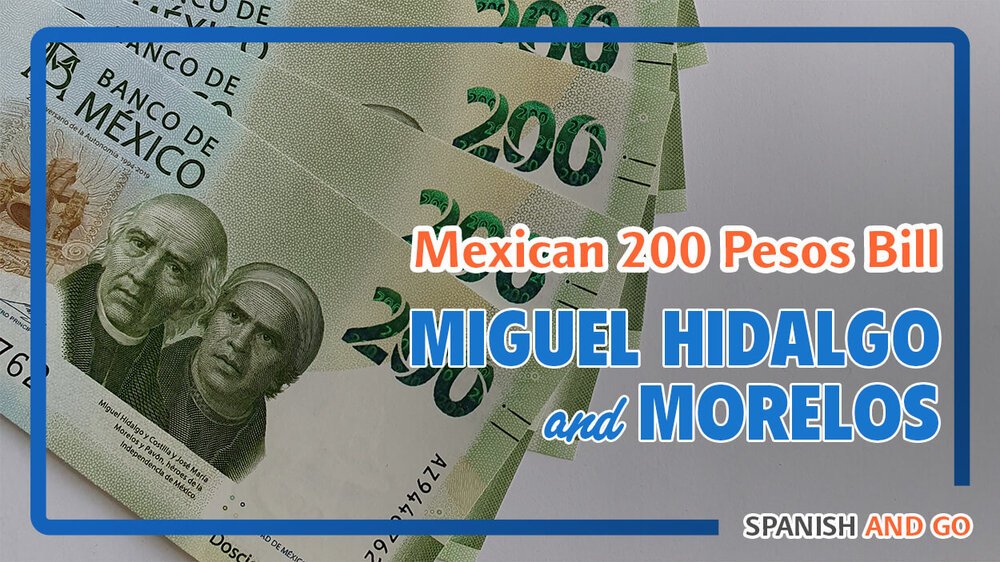 Who's on the 100 Pesos Bill?
The current version of the 100 pesos bill features Sor Juana Inés de la Cruz, famous Mexican poet and writer.
The previous version of the 100 pesos bill shows Nezahualcóyotl, a philosopher, architect, poet, warrior, and ruler (tlatoani) of the city-state of Texcoco in pre-Columbian era Mexico.
Who's on the 50 Pesos Bill?
The current version of the 50 pesos bill features an emblem representing the foundation of Tenochtitlan, where modern day Mexico City was founded. The depiction of an eagle perched on a cactus eating a snake can also be found prominently displayed as the emblem at the center of the Mexican flag. 🇲🇽
The previous version of the 50 pesos bill featured José María Morelos, Mexican Roman Catholic priest and revolutionary in Mexico's War of Independence movement.
Who's on the 20 Pesos Bill?
The current version of the 20 pesos bill features la entrada del Ejército Trigarante a la Ciudad de México (the entrance of the Tigarante Military into Mexico City) which consummated Mexico's Independence. The battalion leader at that time was Agustín de Iturbide, who is depicted prominently in front of the crowd on this bill.
The previous 20 pesos bill showcases former Mexican president Benito Juárez. He is currently featured on the new 500 pesos bill as well.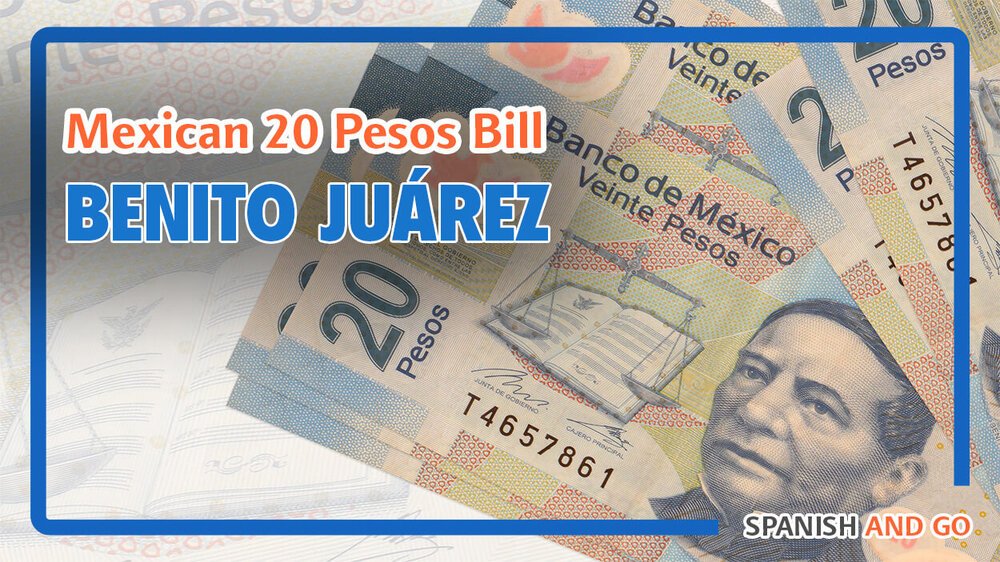 How Can You Easily Tell Pesos Apart?
All denominations of Mexican currency vary in color, texture, and size, in an effort to deter counterfeiting and to assist the blind. The four largest bills are not only the longest but are also made out of a different material than the 50- and 20-peso bills. The larger bills are made from paper while the 100, 50, and 20 are plastic.
Historic Facts About Pesos
The Mexican peso is the eighth most traded currency in the world, the third most traded currency all over America (after the U.S. and the Canadian dollar), and the most traded in Latin America. It was the first in the world to use the dollar sign — even before the U.S. dollar.
You can learn more about the history of the peso in our article Three Interesting Facts About Mexico You Probably Didn't Know.
Final Thoughts
Learning about the money you're using when you're visiting a new country is a great way to gain insight into the history and culture of the place. We hope this article helped you get acquainted with Mexican pesos.
For more information on traveling to Mexico, check out these posts:
You might also be interested in:
Spanish and Go has partnered with CardRatings for our coverage of credit card products. Some of the credit card offers that appear on this website are from advertisers, and compensation may impact how or where the card products appear. Spanish and Go and CardRatings may receive a commission from card issuers for these offers. Responses to these offers are not provided or commissioned by the bank advertiser. Responses have not been reviewed, approved or otherwise endorsed by the bank advertiser. It is not the bank advertiser's responsibility to ensure all posts and/or questions are answered. Opinions, reviews, analyses & recommendations on this website are the author's alone, and have not been reviewed, endorsed or approved by any of these entities. This site does not include all card companies or all available card offers.