How to Apply for Mexican Residency Fast
I received my temporary Mexican residency in less than four hours, and if you have family ties or are married to a Mexican citizen, you can too.
My wife May, the other half of Spanish and Go, is a Mexican and U.S. dual-citizen, and our long-term goals have always included both of us becoming citizens of both our countries.
After May became a U.S. citizen in 2021, it was time for me to start the process of becoming a Mexican citizen. And step one of that process is obtaining residency.
If you're looking to move to Mexico, there are plenty of resources to help you along the way. Some choose to try their luck by living in the country with just the immigration card given to visitors upon entering and making a border run as needed. But if you've decided to take the leap and legally move to the land of tacos, residency is the way to go.
The Benefits of Mexican Residency
Why bother with Mexican residency at all? Americans can stay in Mexico for 180 days without a visa already. For some, that might be enough. But there are a number of reasons why obtaining legal residency in Mexico can be beneficial:
Unlimited days allowed in the country for up to four years
You can enter Mexico as often as you wish
No requirement on how many days you have to be present in Mexico to maintain residency
Legally keep a vehicle from the U.S. or Canada inside Mexico for up to four years
Allows you to apply for a Mexican driver's license

Necessary to purchase a vehicle in Mexico
May grant you special perks and discounts at local attractions

Tax savings when selling property in Mexico
Senior citizens discounts for individuals 60 and over through INAPAM (Instituto Nacional de las Personas Adultas Mayores)

Many airlines, buses, museums, and pharmacies offer discounts to INAPAM card holders
For me, the biggest benefit is peace of mind knowing that I will not be granted fewer days than necessary to assist in conducting our Spanish Immersion Program in Mexico. We run these tours multiple times each year, and knowing that I'll be able to come and go as necessary is a huge weight off my shoulders.
The Requirements for Obtaining Mexican Residency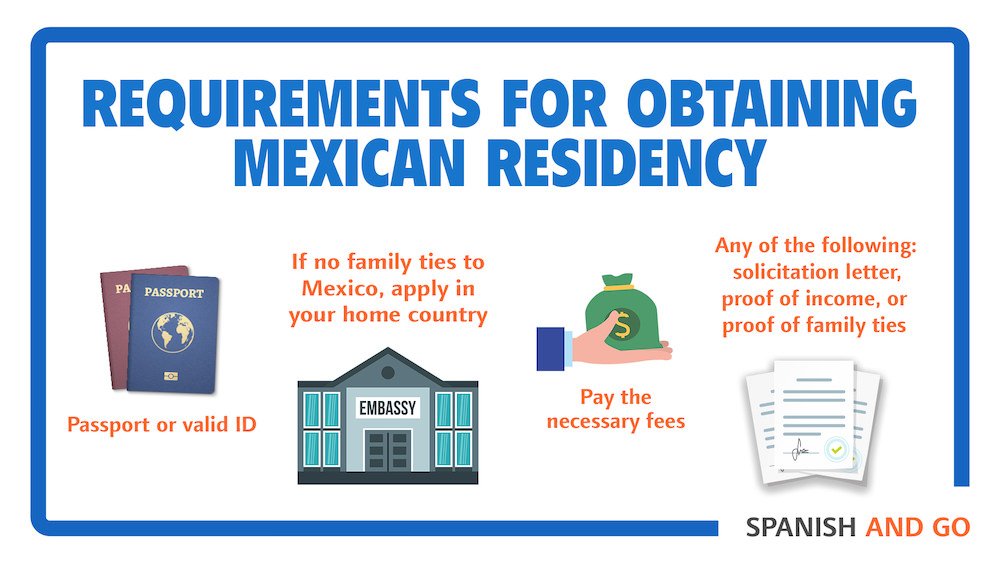 I applied for residency as an individual with a family tie in Mexico, but that's not the only way to become a resident of Mexico. According to the INM website, these are the requirements for becoming a resident of Mexico:
Passport or valid ID
Be a national of the country or prove legal stay in the country in which you are applying for Mexican residency from. If you're an American and have no family ties to Mexico, you will need to apply from the U.S.
Pay the necessary fees ($300-593 USD depending on how many years you apply for)
Present documents that prove any of the following:

(a) Economic solvency (proof you have an income and can support yourself)
(b) Solicitation letter stating your intention to apply for residency
(c) Family tie (parents, marriage)
If you apply as someone with no family ties to Mexico, you will need to start your application process in your home country at a Mexican consulate. Also, the required amounts to prove economic solvency change from year to year.
For example, an individual applying for Temporary Residency (TR) needs to show a monthly income of approximately $2,400-$2700 USD over the last 6 months (some consulates request 1 year); or savings/investment account balance(s) of approximately US$45,000 over the last year.
Individuals married to a Mexican citizen can apply in Mexico and do not need to prove economic solvency.
Why Get Mexican Residency Now?
The fall of 2021 marked a change in attitude by Mexican immigration agents. It wasn't that any official policy had changed; it hadn't. But instead of the usual 180 days granted to visitors upon entry, many expats and travelers started reporting much shorter allowances. In some cases, travelers were receiving as little as 10 days when they had planned for much longer trips. We noticed this too, as some travelers, including students of our Spanish immersion program, received essentially the bare minimum necessary to complete their planned trip.
The immigration form given to you upon entering Mexico as a visitor is an Forma Migratoria Multiple (FMM) card that allows for a maximum stay of 180 days, but the number written on your form has customarily been granted at each immigration agents' discretion.
Even if it wasn't officially a new policy, something changed that meant people entering Mexico could no longer count on getting the maximum stay granted to them on their FMM cards.
If I were to speculate, I'd say this had to do with Mexico having their own immigration issues to deal with, including a huge influx of foreigners coming into the country due to Mexico's lax policy regarding COVID-19, a cheaper economy for those who earn in U.S. dollars, and the world's evolution towards remote work making longer stays abroad much more accessible to a growing demographic.
But even with these new shorter limits of visits, we know from experience that immigration into Mexico is certainly easier for U.S. citizens than it is for Mexicans to immigrate to the U.S.
I was about to find out just how much easier it is.
How to Apply for Mexican Residency Fast
Avoiding the Crowds and Getting in Without an Appointment
After hearing a lot of rumors about Mexico running out of plastic for the residency cards, the online scheduling system being down, and people not being able to get an appointment for weeks or months, I was able to process my Mexican Temporary Residency in just one morning in Manzanillo, Colima.
No expediters, no lawyers, no mordidas (bribes), no appointments, and no lines.
On top of that, I got my two year residency permit right off the bat.
Since May is from Mexico, there were a couple of steps I was able to skip in the process, but even still, I think most people would benefit from doing their interview through a less gringo-saturated INM (Insituto Nacional de Migración) office.
Mexico is in the process of requiring that you schedule your appointment online, but not all INM offices had implemented this when I applied. I called ahead to the Mazanillo, Colima INM office to verify their offices' requirements.
I showed up at 8:50 am, ten minutes before the Manzanillo INM office opened, and there was no one in front of me.
But there was some work to do beforehand. I was applying under the Cambio a residente temporal por vínculo familiar (Change to Temporary Resident by Family Tie) since I'm married to a Mexican citizen and was changing my immigration status within the country. This essentially would change my status as a visitor with a FMM card, to an official Mexican Resident.
Make sure to double check the documents you'll need before going to the INM office. The documents you need may vary or the requirements may change.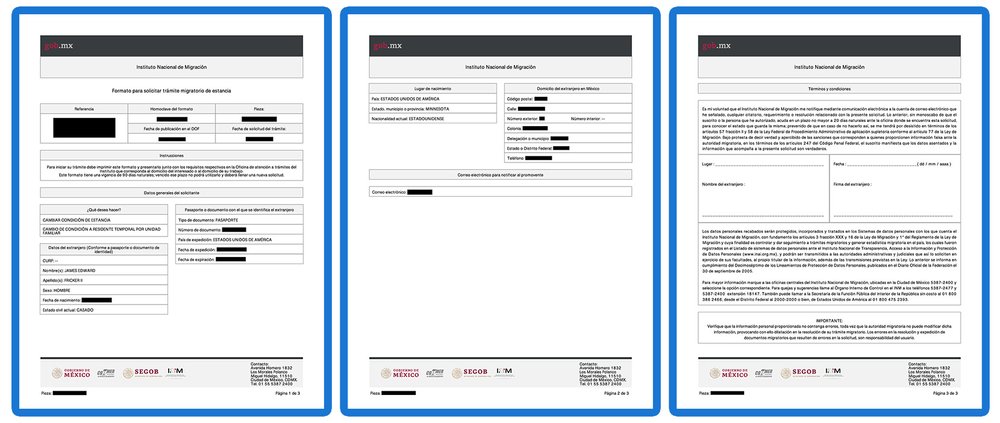 Pro Tips
Call the office where you'll be applying for residency ahead of time to verify the documents they require. There is a list of the documents required on the INM website, but it's best to double check with your local immigration office. Be sure to explain your particular situation, and take note of when you called and who you spoke with to avoid potential confusion once you're at the INM office.
Don't forget to bring your apostille (the name for a specialized certificate, issued by the Secretary of State) for any relevant documents. For me, this was only my birth certificate from the US, but if you got married outside of Mexico, you'll need the apostille for your marriage certificate as well. This is a separate document from the government to certify the document in question's validity. If you were born in Canada but married in the US, you'll need your apostille from the Canadian government for your birth certificate, and the apostille for your marriage certificate from the US government. So many documents!
Required Documents for Temporary Residency
What I needed to gather were originals along with two copies of the following documents:
Valid passport
Valid FMM Card
Wife's Mexican passport
Birth Certificate with Apostille and Certified Translation
Marriage Certificate (no apostille needed since we got married in Mexico)
Solicitation Letter in Spanish
I had all of my paperwork ready to go except for one little surprise: to get the two-year temporary residency, I was asked to provide three months of bank statements.
This is generally not a requirement for applicants who are married to a Mexican national, but with a quick visit to the local copy and print shop (just a five minute walk away) I had everything they asked for in hand.
The agent who requested the bank statements didn't specify an amount of income they were looking for, but the income from running a small online business was enough for them.
I also had to fill out another form that was given to me at the INM office that requested basic personal information such as my height, weight, profession, etc. Then I was asked to go to a nearby Mexican bank to pay for the processing fee for my application in cash.
I walked about ten minutes to a nearby bank, withdrew some cash at their ATM, paid for the processing fee with a banker, and was given a receipt to return to the INM office.
The Cost Of Mexican Residency
When I applied for temporary residency in Mexico in 2022, the processing fee for the application was $1,514 MXN (about $74 USD), but as of 2023, the cost has increased to $1,632 MXN (about $88 USD). In addition to the application fee, there is also an additional variable fee depending on the length of residency requested.
The Cost of Temporary Residency in Mexico
As of February 2023, the costs for temporary residency are as follows:
Up to one year: $5,108 MXN (about $277 USD)
Two years: $7,654 MXN (about $415 USD)
Three years: $9,693 MXN (about $526 USD)
Four years: $11,488 MXN (about $624 USD)
Please note that these costs are subject to change and should be verified on the Mexican government's website. In addition to these costs, there may be additional fees for medical examinations, translations, and other paperwork. To calculate the updated USD amounts, we used the conversion rate of $1 USD equals 18.40 MXN, which is accurate at the time of writing. You can find the current official costs for becoming a resident on the INM website.
I specifically requested two years and was approved. I'll be eligible to apply for my Permanent Residency after two years. Since I'm married to a Mexican citizen, I'll be eligible to apply for Mexican citizenship once I'm approved for permanent residency.
The Cost of Permanent Residency in Mexico
If you are planning to apply for Permanent Residency in Mexico, you should be aware of the associated costs. Once you're eligible to apply for Permanent Residency, the first cost to consider is the processing fee for the application, which is currently $1,632 MXN (about $88 USD) as of February 2023. This fee is for the reception, study, and, if applicable, authorization of the change of status.
Assuming your application is approved, you will then need to pay a variable fee, the amount of which depends on various factors. After that, there is an additional fee of $6,226 MXN (about $338 USD) for the reception, study, and, if applicable, issuance of the Permanent Resident document (DRP).
As always, these costs are subject to change and should be verified on the Mexican government's website.
My Experience With Mexican Immigration (INM)
All in all, the INM agents were professional and helpful. I did the entire process in Spanish, but they offered to speak English in case there was something I didn't understand.
In total, the entire process took less than four hours, from arrival at 8:50 am to residency card-in-hand at 12:30 pm.
If you want to hear more about the process and practice your Spanish, my wife and I recorded this podcast episode where we explain everything, along with a few additional resources to help you through the process.
DIY Mexican Residency: Do You Need a Fixer?
Often, people wondering how to apply for Mexican residency hire an agency to handle the process for them. While I certainly see the convenience in doing this, it's not necessary.
There are plenty of resources online to help you through the process. Not only will doing everything yourself save you money, it will also give you the opportunity to practice your Spanish and give you a sense of accomplishment that you did it.
If you're hesitant to apply on your own because of a lack of Spanish skills, I highly recommend you join our Podcast Membership. It's designed to help you understand real Spanish conversations and to give you the tools to speak it.
We also recommend the resources you'll find in this Do-It-Yourself Mexican Residency Guide.
I feel fortunate that Mexico welcomed me as a resident into its beautiful country so easily. My wife, May, and I know too well that residency for a Mexican seeking residency in the U.S. takes years, not hours.
Now we're freer than ever to pursue our goal of visiting every Spanish-speaking country without the worry about overstaying our welcome in each other's homeland.
¡Viva México!
Frequently Asked Questions