The 16 Best Things to Do in Barcelona
Barcelona, with its unique architecture, rich history, delicious food, and beautiful beaches, is one of the most popular destinations in Europe. It sees over 32 million visitors a year — though if you visit off-season, it's comparatively empty. It's just the summer months you need to avoid.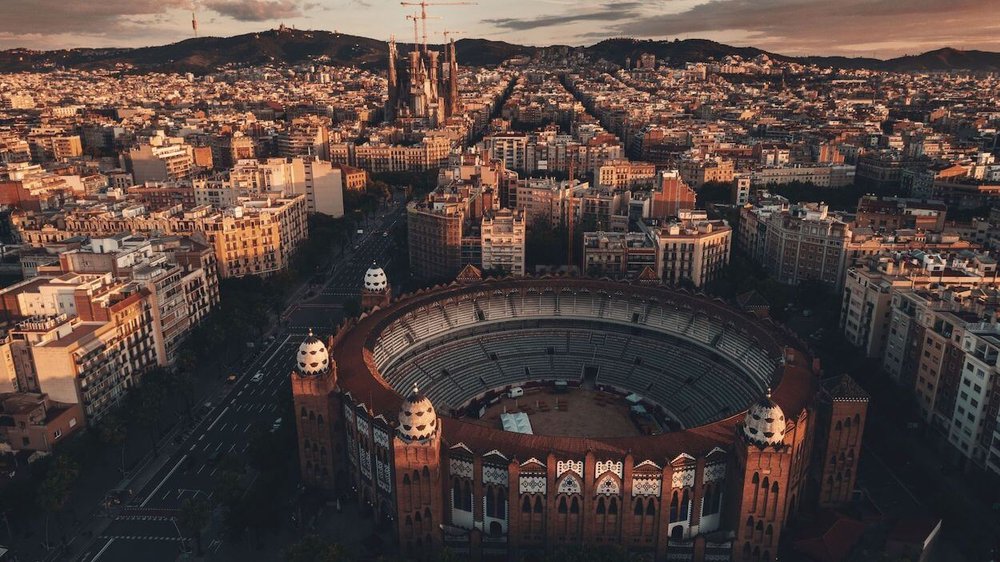 I'm a huge fan of the city. I first visited in 2006 when I was traveling the world for the first time, and have been back repeatedly since. While the crowds have increased, what makes Barcelona so wonderful hasn't changed. The food, the architecture, the vibrancy of the people, the energy – it's all still there.
To help you make the most of your visit as you explore and hone your language skills, here is my list of the best things to see and do in Barcelona for first-time visitors:
1. Take a free walking tour
I love taking free walking tours anytime I visit somewhere new. They show you the lay of the land, highlight the main sights, and allow you to meet other travelers and chat with an expert local guide who can answer all your questions.
My recommended free walking tour companies in Barcelona are New Europe and Free Walking Tours Barcelona. Their tours cover all the highlights and will give you a solid introduction to the city. Just make sure to tip your guide at the end!
2. Shop at La Boquería
Mercat de Sant Josep de la Boquería (La Boquería for short) is a public market located in the heart of the historic center. The market dates back hundreds of years (the first mention of one in this location is from the 13th century) and is home to an amazing array of food stalls and restaurants. It's a great place to practice your Spanish or Catalan as you chat with shopkeepers and pick out some tasty snacks.
It's located right off La Rambla, so it can get pretty busy, especially in the morning, when the tour groups come through. Get here really early to avoid the crush.
3. Admire La Sagrada Família
La Sagrada Família is arguably Barcelona's top attraction. It's the magnum opus of its most famous architect, Antoni Gaudí (1852–1926). This massive church was his final project, and like many of his works, it blends several architectural styles, most notably Gothic and Art Nouveau. Even though construction began in 1882, the work is still ongoing, with a constantly moving end-date for completion (currently 2026).
I recommend taking an audio or guided tour to learn more about the church's history and varied architectural elements. If you can, try to visit between mid-morning and late afternoon, so you can see the sunlight cascade through all the stained glass.
4. Explore Gaudí's Barcelona
In addition to La Sagrada Família, Gaudí's other works collectively constitute a UNESCO World Heritage Site. His signature style is uniquely whimsical, blending and transcending Catalan Modernist, Art Nouveau, and Gothic styles. As a devout Catholic whose faith deepened over the course of his life, he also incorporated religious themes, statues, and iconography into most of his works as well.
He was a prolific architect, and his works can be seen all over town. Some of the main ones include the sprawling Park Güell, the Art Nouveau mansions of Casa Batlló and Casa Milà, and the stately Palau Güell, which was designed for one of Gaudí's patrons, Eusebi Güell, to entertain high-society guests. Many of these buildings are located in or close to L'Eixample (one of my favorite neighborhoods, if you're wondering where to stay in Barcelona).
While some of these sites have an admission fee, most are free to admire from the exterior if you're on a budget. This article I wrote on Gaudi's Barcelona gives details on all these attractions and how to visit them.
5. Meander through the Barri Gotic
Barcelona's Gothic Quarter (Barri Gotic) is the oldest part of town. It's also my favorite. Home to the remains of the Roman wall, columns of the Temple of Augustus (built during the Roman Empire), and numerous medieval buildings, this is a beautiful and atmospheric area that's easy to get lost in. Sure, it's a little touristy now, but for good reason. Get up early and enjoy the district without the crowds (a suggestion that goes for the entire city)!
6. Lounge on the beach
Barcelona's location on the Mediterranean means that it has some great beaches to enjoy. The most popular beach is called Barceloneta, where the water is great for swimming. When you need a break from the water or sun, there's a long boardwalk lined with great restaurants where you can grab a drink or snack.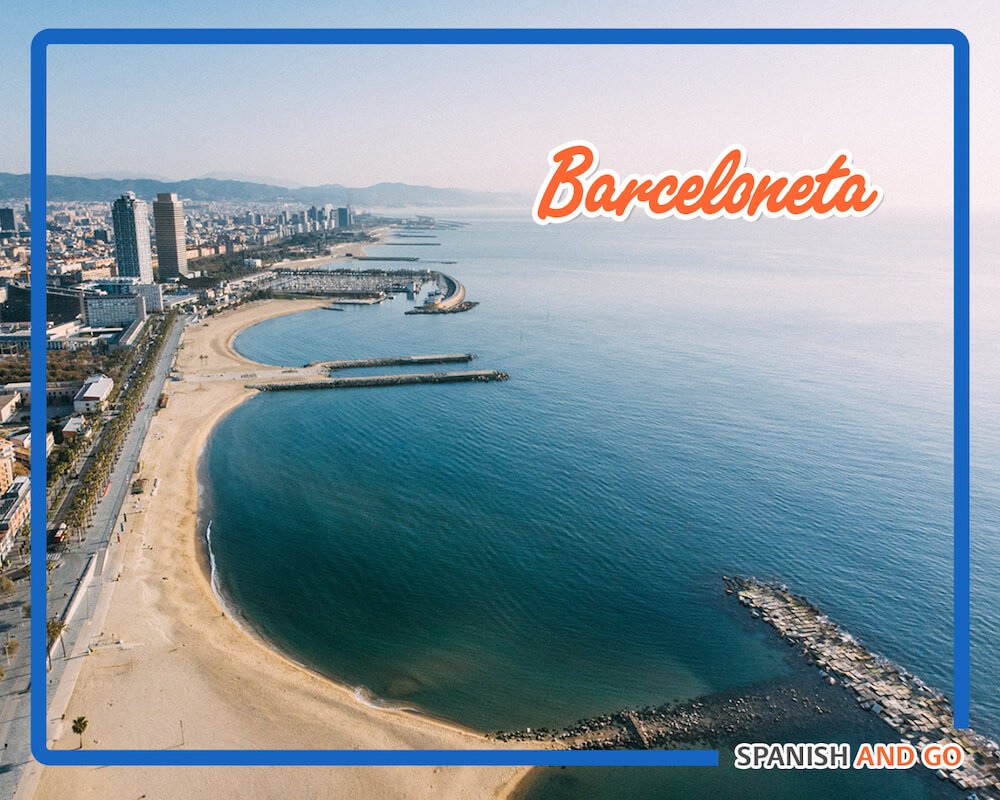 Its popularity means that the beach is always busy with both tourists and locals, but if you walk a bit further from the center, you can find some quieter and cleaner sections. Two areas to check out are Sant Sebastià (in the south) and Somorrostro (in the north).
7. Ride the port cable car and explore Montjuïc Hill
Barceloneta is connected to Barcelona's most prominent hill, Montjuïc, by an aerial tramway with picturesque red cable cars. The ride is just 10 minutes long and offers panoramic views over the entire city.
If you want to hike up to Montjuïc instead, there are a few trails to the summit, with most taking around three hours. Other options for getting to the top are via the Montjuïc Funicular or the Montjuïc cable car, another gondola.
Once you've arrived, there's a lot to keep you busy at the top beyond the view. First, explore the Castell de Montjuïc, a large, 18th-century fortress with picturesque gardens as well as a museum with lots of military displays. The Museu Nacional d'Art de Catalunya, which features mostly Gothic, Renaissance, and Baroque works, is also here; the fountain out front has a spectacular free light show on Thursdays, Fridays, and Saturdays.
Additionally, don't miss the Olympic Ring (where most of the 1992 Olympic Games were held) and the Poble Espanyol, a replica village that was built in the early 20th century to re-create various famous sights and regions of Spain; it has over a hundred buildings and elements, including an Andalusian quarter, a section of the Camino, a monastery, and more. It's a nice place to visit if you can't explore more of Spain on your visit.
8. Go for tapas
There's no better way to practice your language skills than by rubbing elbows with locals at a bar. Going out for tapas is a cultural institution, so much so that there is a Spanish verb expressly for the purpose: tapear.
Tapas are small plates that range from cold servings of Manchego cheese to hot dishes like fried calamari. Making a meal out of tapas is great, because you can try many different foods, from traditional dishes like jamón ibérico and patatas bravas to Catalonian specialties like esquiexada (salt cod) and bombas (fried potato balls).
Some of my favorite places for tapas include Quimet & Quimet (cozy, historic, and standing room only), Pinotxo Bar (a tiny stall tucked inside La Boquería food market), Tapeo (offering a mix of classic and creative tapas, in the Gothic Quarter), Els 4Gats (one of Picasso's favorite haunts), Cervecería Catalana, and Cervecería Vaso de Oro (both very traditional Catalan tapas bars).
9. Take a food tour or cooking class
If feasting on tapas wasn't enough, try learning how to make some. Personally, I love learning about a destination through its cuisine, as food is an integral part of any culture. This is especially true in Spain, and like the rest of the country, Barcelona is a city in which to eat to your heart's content.
On a food tour or cooking class (or both), you'll learn about traditional Catalan cooking, sample fresh ingredients, and walk through local markets. Some companies I recommend are Devour Tours, bcnKITCHEN, Barcelona Cooking, and Just Royal BCN. Just make sure to bring an appetite!
10. Visit the art museums
Gaudí wasn't the only important modern artist who left their mark on Barcelona. Cubist and surrealist artist Pablo Picasso lived in Barcelona during several periods. The Museu Picasso houses over 4,000 pieces, the most comprehensive collection of his works in the world. The museum also explores the Spanish artist's connection to the city itself, as well as how his art changed and evolved over the course of his life.
Another great art museum is the Barcelona Museum of Contemporary Art (MACBA). It has over 5,000 works dating from the mid-20th century onward, with an extensive collection of pieces by Catalan and Spanish artists.
Both offer audio guides in English and Spanish (in case you want to practice while you explore).
11. Admire Barcelona Cathedral
While Gaudí's basilica gets all the attention, it's not the only place of worship worth visiting in town. Dedicated to Saint Eulalia, the co-patron saint of the city, the Barcelona Cathedral does share a similarly lengthy construction time with La Sagrada Família though: construction began in the 13th century but wasn't finished until the 15th, and a Neo-Gothic façade was added in the 19th century.
Once you step inside the stunning, vaulted main chamber, you will admire its two massive spires, colorful stained-glass windows, and incredible wood carvings. While you're here, don't miss going up to the upper terraces for incredible views.
12. Visit the Museum of the History of Barcelona
As a history buff, I've visited a lot of history museums over the years, but Barcelona's remains one of my favorites. Located on the 14th-century medieval square Plaça del Rei, the museum gives visitors a great sense of the city and its past, from the Roman era to the present day. There is also a free (and quite detailed) audio guide for added context, as well as meticulous explanations of the exhibits.
Undoubtedly the best part of the museum, though, is the 4,000 square meters of Roman ruins that you can explore right underneath it. Don't miss them!
13. Watch some flamenco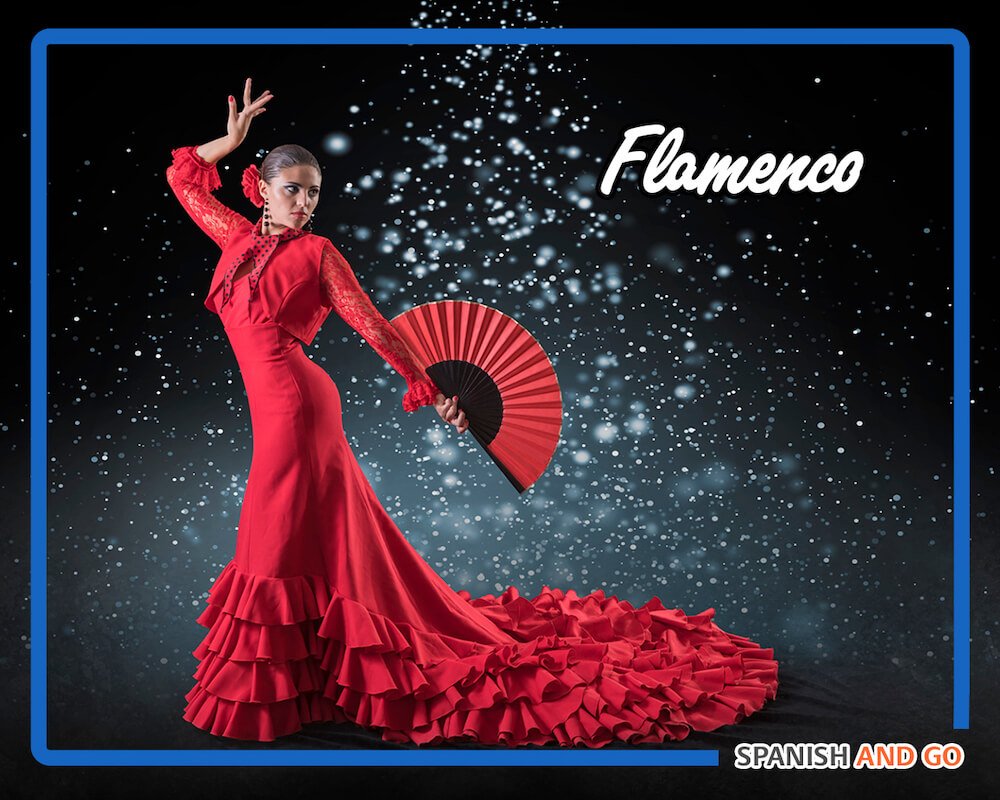 Flamenco is a traditional Spanish music and dance that dates to the 18th century. It's known for its intricate footwork and hand movements and is so culturally important that UNESCO designated the unique art form as a piece of intangible heritage to humanity.
While flamenco originated in the southern region of Andalusia, there are many places to see these lively and expressive performances in Barcelona. Some of the best places are Los Tarantos (the oldest flamenco venue in town), Palau Dalmases (in an incredible palace with amazing décor), and Tablao Flamenco Cordobés right on La Rambla (this is the most expensive option, though it also includes dinner).
If you'd like to try this traditional dance yourself, you can find classes in Barcelona as well, usually for 35-50 EUR.
14. Take a day trip to Girona
Girona is a medieval city just 40 minutes from Barcelona by train, an easy day trip. There's lots to do, from walking along the city walls and wandering the narrow lanes of the Jewish Quarter to soaking up the ambiance at one any number of cafés.
Some of the main attractions include the Cathedral of Girona, the Monastery of Saint Daniel, and the Eiffel Bridge, which was designed by Gustave Eiffel just before he designed that famous tower in Paris. In recent years, Girona has also become a popular destination for Game of Thrones fans, since many iconic scenes were filmed here!
15. Eat, drink, and be merry
Despite all the wonderful things to see and do, the main pleasure in Barcelona is really the culture. Here you eat, drink, and plan to go out late. Dinner doesn't start much before 9pm and goes late into the night, as it devolves into a bar crawl and bottles of wine.
In addition to the tapas bars mentioned above, some of my favorite places to eat and drink are: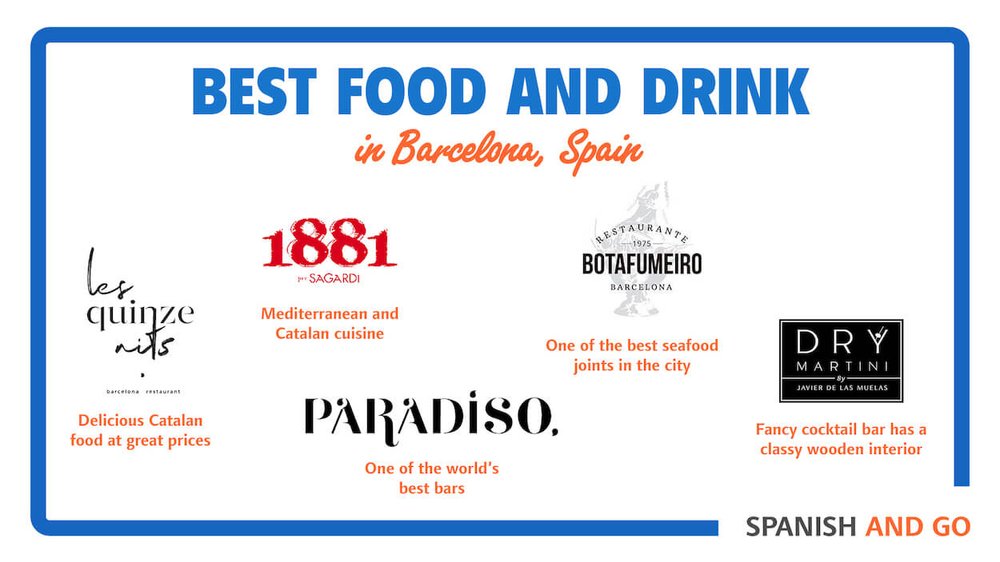 Les Quinze Nits – Located right on Plaça Reial, this spot serves up delicious Catalan food at prices so great that even locals still come here for the value. Go for lunch instead of dinner to avoid the long lines.
1881 per Sagardi – The History Museum of Catalonia's restaurant in La Barceloneta offers upscale Mediterranean and Catalan cuisine and panoramic views over the city.
Paradiso – Consistently named one of the world's best bars, this chic cocktail bar is famous for its inventive cocktails. They also host mixology workshops!
Botafumeiro – Located in Grácia, this is one of the best seafood joints in the city (expect high prices).
Dry Martini – This fancy cocktail bar has a classy wooden interior, elevated tapas, and of course, incredible cocktails. It's an institution, having been around for over 30 years.
16. Meet locals
Barcelona offers a lot of opportunities to meet locals and other travelers, make friends, and get a closer look at life. It's a super social city. While it's often easy to meet folks during tours and other events, be sure to also check out Meetup.com, The Nomadic Network, Couchsurfing, and local Facebook groups for language exchange and expat get-togethers.
***
Barcelona is an electric city. It's fun, lively, and has something on offer for every traveler and every budget.
While its popularity means more visitors than ever, if you visit during the shoulder season, you'll be able to appreciate this beautiful destination with fewer crowds.
Personally, I never get tired of visiting this amazing city. It's one of the best in Europe for a reason! For more information, check out this super detailed Barcelona travel guide I wrote that includes more things to do, costs, safety tips, transportation advice, and ways to save money.
You might also be interested in:
Matt Kepnes runs the award-winning travel site nomadicmatt.com, which helps people travel the world on a budget. He's the author of the New York Times best-seller How to Travel the World on $50 a Day and the travel memoir Ten Years a Nomad. His writings and advice have been featured in the New York Times, The Guardian, Lifehacker, Budget Travel, Time, and countless other publications, and on CNN and the BBC. You can follow him on social media at @nomadicmatt. When he's not on the road, he lives in Austin.