Best Things to Do in Culebra, Puerto Rico [2023]
Culebra, also known as La Isla Chiquita (The Little Island), is located 17 miles east of the Puerto Rican mainland and is home to fewer than 2000 residents. Formerly part of the Spanish Virgin Islands, it's home to a variety of wildlife including deer, sea turtles, coral, and of course its namesake, snakes.
Exploring this island has been on our bucket list since we visited its neighbor, Vieques to see the incredible bioluminescent bay there.
So when the opportunity to visit Culebra came up, we jumped on it to show you just how much you can fit in your itinerary within 24 hours on this incredible island.
How to Get to Culebra
If you don't own a boat, there are two main options for getting to Culebra; by ferry or by plane. We'll help you weigh your options.
Getting to Culebra, Puerto Rico By Ferry
The ferry service from Ceiba is mainly intended to serve residents of Culebra trying to get to the main island of Puerto Rico. So, there's no guarantee that there'll be room for tourists. We've heard from other visitors who arrived at the ferry dock two or three hours before departure and still had to wait for the next one because the ferry they intended to board was full.
You can purchase tickets online for $1 to $2.25 per trip through the Autoridad de Transporte Marítimo (ATM) website.
Getting to Culebra, Puerto Rico By Air
Flying is more reliable, but it limits the number of things you can bring with you.
We decided to fly to Culebra from the Luis Muños Marin airport (SJU) in San Juan, Puerto Rico. We got lucky and ended up on an empty plane (it was just us two plus the pilot!). All flights to Culebra are on board small passenger planes that seat about 10 people.
The airline we used was Cape Air. The round flight goes for around $180 USD and they currently have 3 scheduled flights every day at the time of writing this article.
Where to Stay in Culebra, Puerto Rico
Culebra is fairly small so you can book a place in town and still have enough time to enjoy the beach every day of your stay. These are a few options.
Camping in Culebra
Flamenco beach offers a place for people to set up their tents. When we visited, the campgrounds were closed due to remodeling and the COVID-19 pandemic so we didn't get to see much of the area. We did notice some closed kiosks, wooden benches, and bbq pits.
They charge $30 USD per tent per night (max 6 people per tent), plus another fee of $2 USD per person per day.
During non-pandemic times, the kiosks sell drinks and some food like pizza and other fast food items.
Hotels in Culebra
There are many hotel options in Culebra. It's best to start your search by figuring out which area you want to be in, your budget, and amenities.
Villas at Flamenco Beach
If your main priority is spending the most time soaking up the sun and enjoying one of the world's most beautiful beaches, then the following villas are for you.
Currently, there are only two places where you can stay the night at Flamenco Beach. One of them, Villa Flamenco, books up fast and closes from October 1st to November 15th, so check dates and availability with plenty of time in advance. The average cost here is between $135 and $180 USD depending on the type of room and the number of people staying with you.
The other villa on Flamenco Beach is Culebra Beach Villas. This option is a bit more pricey since most of what they offer are small apartments with fully equipped kitchens and other amenities like bbq grills and some private areas. This option also requires a minimum of two nights per stay.
Airbnb in Culebra, Puerto Rico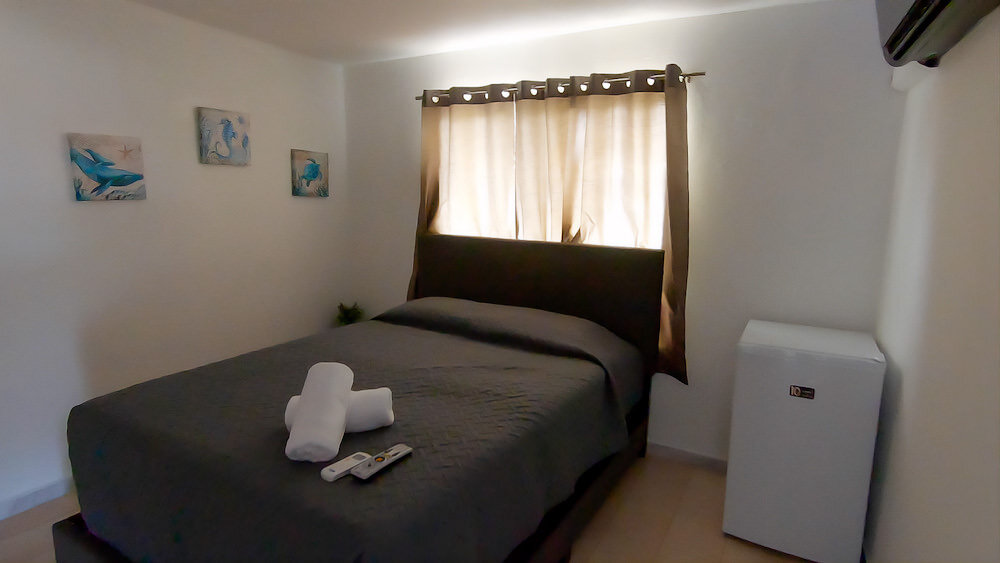 We chose to stay at D'Ocean Guest House on Airbnb since most other accommodation options were simply not available at the time of our trip.
The guest house was basic but it was just what we needed. For $120 USD a night, we got a small room with a/c and a bathroom. The location is excellent for easy access to food and getting around the island.
We were able to walk there from the airport at our arrival and we were within walking distance to many restaurants and other places of interest in Culebra.
What to Do in Culebra, Puerto Rico
Culebra is for those who are looking for a tranquil getaway. Here are some of the things we recommend doing on the island.
Snorkel
Keep reading to find out more about the best beach for snorkeling in Culebra, Tamarindo Beach!
Relax
No matter where you are in Culebra, you can't help but notice the peacefulness that comes with knowing that you're on a charming, secluded little island in the middle of the Caribbean sea.
Admire the Fauna
We have never seen so many different species of wild animals in such a small place and just over 24 hours. We saw pigs roaming around the island, chickens everywhere we went, deer by Flamenco beach, a variety of birds, peacocks, and many sea creatures from manta rays, to turtles, and even a shark.
Enjoy the Beach
This is the main reason people visit Culebra, to enjoy some of the most beautiful beaches of Puerto Rico. Keep reading for our review of Culebra's top beaches: Flamenco, Zoni, and Tamarindo.
Learn More About Culebra
We also recommend visiting the Museo Historico de Culebra "El Polvorin" where you can find out about the military occupation of the island by the U.S. Navy and Culebra's indigenous inhabitants, the Taino.
Visit the National Wildlife Refuge
Accessible only by water taxi or private boat, this is the place to be for bird watching and experiencing nature at its finest.
Getting Around Culebra (Renting a Car in Culebra)
Before getting to Culebra we thought we may not need to rent any kind of transportation because we both enjoy walking around when we're exploring a new place. Also, when you look at Culebra's map you can get the impression that since it is such a small island, you'll be fine with a 40-minute walk to the beach from the airport. Given that the weather can be unpredictable, and walking in the sun intense, we recommend you consider renting a vehicle.
Golf Cart
We're glad we decided to rent a golf cart when the whole island pretty much shut down at 6 pm and we were struggling to find a place to eat. It also rained on our way to the restaurant and all of the streets were very dark.
We rented our golf cart from Jerry's Jeep Rental. It's located across the street right outside the airport. We paid $70 USD for one full day with the cart (despite the website quoting $38) and we don't regret our decision. If you know you'll be doing some more intense exploring, consider renting a sturdier vehicle since golf carts are not meant to be used on dirt roads. We used our cart mainly to drive around town and on paved streets on our way to the beach.
Jeep
As you probably guessed, Jerry's Jeep Rental also rents… jeeps! We like to travel on a budget, but a jeep might be the option for you if you need to transport more people, want to go off-roading, or appreciate the extra protection from the elements a larger vehicle offers. At the time of writing, Jerry's website is quoting $64.48/day for a jeep rental, but in our experience, this may be considerably more when booking at their office.
Where to Eat in Culebra (Restaurants)
Unfortunately, many of the restaurants we wanted to visit were not open during our stay in Culebra in October of 2020.
We recommend that you bring your favorite snacks or food staples if you have a specific diet. There are a few grocery stores and small markets in town where you can find the essentials for cooking if you're staying in a place with a kitchen.
Restaurants We Tried in Culebra
Pandeli
This bakery seemed to be the breakfast spot of choice by the locals when we were there. It's also the place that opens the earliest at 5:30 am. They offer the most typical Puerto Rican breakfast staples like sandwiches, eggs, pancakes, wraps, pastries, coffee, bottled brinks, etc.
Caracoles Restaurant
We had a beer each, a veggie pizza, and a side of veggies here for dinner. The food we had here was good. The restaurant has a bar where you can get some mixed drinks. They also serve some desserts and Puerto Rican foods like mofongo, churrasco, and tostones.
Come y Vete
We stopped here simply because we were hungry and didn't want to stand in line at Pandeli. This wasn't our favorite (or healthiest) meal during our time in Culebra. We each had a small pizza pastelillo or empanadilla and some coffee.
Moncho's BBQ
We got take out food from here after calling and going to over 5 other places which were all closed. We were surprised about finding many veggie options here. We had rice, beans, veggies, and mashed yuca. All in a big take out plate for less than $10 USD. We paid $10.17 for two large vegetarian plates of food, including yucca, arroz congri (Cuban-style rice and beans), and steamed vegetables. Check out their Facebook page here.
More Restaurants in Culebra, Puerto Rico
Zaco's Tacos
Zaco's Tacos was recommended to us by a few people when we were planning our trip. It was closed when we visited but we heard great things. Mexican / Latin Food.
Heather's Pizza
We missed this place by only a few minutes, they were not taking any more orders when we arrived. We heard they have the best pizza in town and the long line of people waiting for their orders outside was a good indicator of this. Italian / American Food
Dinghy Dock
Their Crab cakes and Grilled Tuna are many people's favorite items from their menu. Their full bar is what attracts many people to this place, too. American / Caribbean Food
Vibra Verde
This is the restaurant/coffee shop we were looking forward to visiting the most. One of the very few places that offer vegan food on the island. Unfortunately, it was closed during our stay.
Culebra Coffee
Another one of the restaurants we wanted to try for healthier food options such as smoothies and fruit bowls.
Top Beaches to Visit in Culebra, Puerto Rico
Flamenco Beach
Located on the north-west side of the island, flamenco beach is often regarded as one of the world's most beautiful beaches. And even though this beach is quite famous in Puerto Rico, it has to be one of the Caribbean's best-kept secrets. Flamenco is a paradise of white sand and turquoise waters which has remained unadulterated by mass tourism.
You can't leave Culebra without spending at least a few hours here just relaxing, taking long walks to explore the area, and taking in the beauty of the place.
Tamarindo
If you're into snorkeling and wildlife, you have to visit Playa Tamarindo. This is also a good place to see the sunset on clear days. Tamarindo's best qualities are its calm waters and diverse marine life. Bring your snorkeling gear and get lost in a world of colorful fish, coral, sea turtles, manta/sting rays, and if you get lucky (or unlucky), sharks!
Zoni Beach
This beach is just as beautiful as Flamenco with its white sand and different shades of blue water, but much quieter due to its location on the northeast side of the island. You need some kind of transportation to get there, and in return, you'll get to experience Culebra's nature at its best. During the spring, Zoni is the nesting home for different species of sea turtles, be on the lookout for nesting sites and try not to walk over them or play around them.
Be extra careful if you decide to go for a swim here since the water is deeper. When we visited (in November) it was very windy and we saw bigger waves than in Flamenco.
How Much Money Do You Need in Culebra?
How Much We Spent During Our 24-hour Stay in Culebra
D' Ocean Guest House Airbnb: $121.12/night
24-hour Jeep Rental from Jerry's Jeep Rental: $70.02
Pandeli (Lunch): $10
Caracoles Restaurant & Bar (Dinner): $30.50
Come y Vete (Breakfast): $5
Moncho's BBQ (Lunch): $10.17
Uber to airport: $11.38
Uber from airport: $21.05
TOTAL = $279.24 (not including flights)
Packing Tips for Culebra, Puerto Rico
The vibe in Culebra is pretty laid back, I honestly don't remember seeing anyone wearing pants there. When you're packing for your trip to Culebra just make sure you grab your beach essentials and the rest of the clothing you need is definitely whatever makes you feel most comfortable. Here are some suggestions:
All Good Mineral Sun Care Set – SPF Lip Balm, Sunscreen Lotion & Butter Stick, & Face/Nose/Ear Sunstick – Water Resistant & Coral Reef Safe (Unscented)
All Good
Water shoes for snorkeling
Sandals and comfy walking shoes
Swimsuit(s). You may want to bring a couple in case one is not dry enough to wear the next day.
Shorts
Breathable T-shirts
Light long-sleeved shirt
Sunscreen
Sunglasses
A hat
Cards, a small game board, a book, a ball, etc.
A portable charger power bank for your phone.
A beach towel (in case your accommodation doesn't provide them)
We loved every minute of our short stay on the beautiful island of Culebra. We hope you fall in love with this gem of a place like we did. <3
Frequently Asked Questions
Q: What are the best things to do in Culebra, Puerto Rico?
A: The best things to do in Culebra include visiting popular beaches like Flamenco Beach and Tamarindo Beach, snorkeling at Melones Beach, exploring Culebra National Wildlife Refuge, taking a day trip to the uninhabited island of Culebrita, and watching the sunset at Zoni Beach.
Q: Can I snorkel in Culebra?
A: Yes, Culebra offers some of the best snorkeling spots in Puerto Rico. Popular snorkeling locations include Melones Beach, Tamarindo Beach, and Carlos Rosario Beach, where you can often see sea turtles and a wide variety of marine life.
Q: How do I get to Culebrita Island for a day trip?
A: To visit Culebrita, you can take a water taxi or a guided tour from the main Culebra Ferry Terminal. A day trip to Culebrita usually includes exploring its beaches, taking a walk in the nature reserve, and visiting the Culebrita Lighthouse, one of the oldest lighthouses in the Caribbean.
Q: What can I see in the Culebra National Wildlife Refuge?
A: The Culebra National Wildlife Refuge is a scenic and protected nature reserve, home to many species of wildlife, including sea turtles and diverse bird populations. You can explore the refuge on walking trails, birdwatch, and take guided kayak tours to Cayo Luis Peña, located within the refuge.
Q: What are the most popular beaches in Culebra?
A: Some of the most popular beaches in Culebra are Flamenco Beach, which is considered one of the best beaches in the world, Tamarindo Beach, Zoni Beach, and Melones Beach. Each beach offers unique experiences, from snorkeling to watch the sunset or simply relaxing in the sun.
Q: What are some activities to do at Flamenco Beach?
A: Flamenco Beach in Culebra is a perfect place for swimming, sunbathing, snorkeling, and beach camping. Additionally, you can take a walk along its pristine sands, visit food kiosks offering local cuisine, or explore the nearby abandoned military tanks from the US Navy's past presence on the island.
Q: Where can I watch the sunset in Culebra?
A: Zoni Beach is one of the best locations to watch the sunset in Culebra, as it faces westward across the Caribbean Sea. Enjoy the breathtaking view as the sun sets over the water and the picturesque coastline of the island.
Q: How can I explore the island of Culebra?
A: The best way to explore the island is by renting a golf cart, Jeep, or scooter, allowing you to tour the island at your own pace, discovering hidden beaches, and experiencing local culture. You can also take guided tours or rent kayaks and paddleboards to explore Culebra's shoreline and marine life.
Q: Can I visit Culebra as a day trip from the main island of Puerto Rico?
A: Yes, you can visit Culebra as a day trip from the main island of Puerto Rico. You can catch a ferry from either Fajardo or Ceiba, or take a short internal flight from San Juan or Ceiba. Keep in mind that the ferry schedule is subject to change, so it's best to plan and confirm your trip accordingly.
Q: Is there a travel guide for Culebra that can help me plan my trip?
A: Yes, you can find a variety of Culebra Travel Guides online, offering information on places to visit, accommodations, transportation, activities, and local cuisine. The travel guides will help you make the most of your visit to this beautiful island of Puerto Rico.