Immersion – Oaxaca
DON'T JUST LEARN. EXPERIENCE.
An Unforgettable Spanish Immersion Program in Oaxaca City
Are you ready to take your Spanish to the next level? Our Travel Spanish Immersion retreat in Oaxaca City, Mexico will help you do just that. Everyone knows that when it comes to learning Spanish, nothing beats immersion.
Join an exclusive group of up to 12 participants for a unique Spanish Immersion program at one of the most beautiful cities in Mexico.
If you're a traveler who struggles communicating with the locals, ordering food, asking for directions and understanding the culture, this program is for you.
Over the course of seven days, you will practice and develop the skills to become a confident traveler, all with the teaching and guidance of certified language instructors and the help of the locals along the way.
This incredible experience will allow you to explore one of the most beautiful and charming cities in Latin America in a way most never will. Not only will you learn Spanish, but you'll also learn about the history of of the places we visit, taste the food, chat with the locals, make friends, and improve your confidence.
Each day you'll get situation-focused lessons, and apply what you're learning during the trip. With May and Jim's help, you'll get real-time feedback and encouragement throughout the retreat.
Our Unique Spanish Immersion Program
The week-long immersion with our teachers combines group sessions and real-world activities where you'll use what you've learned immediately. All with real-time feedback. You'll also have time to recover after the scheduled itinerary with time to shop, sample the local food, and get to know about the history and culture of the host city.
An Authentic Culinary Tour
We combine course material with history and culture by taking you on a delicious and informative tour of the local food offerings. You'll learn about and get a chance to try real Mexican food made fresh, including gorditas, tamales, tlacoyos, tacos, and much more.
Supercharge Your Confidence and Your Spanish
Your private driver will pick you up at the airport and we'll take it from there. One week later, you won't believe your transformation. The fastest way to Spanish fluency starts right here.
---
Testimonials
"My Spanish has improved a lot in just a week. It's really noticeable! You won't regret your decision…"

— Madison Rowland-Davis
---
Accommodations
We want you to be comfortable during your trip. That's why we choose Complejo García as our retreat home-base.
Complejo García is an incredible space located in the heart of the Centro Histórico. The twin two-story buildings each contain two furnished apartments. Each apartment has a full kitchen, bathrooms, and a dining area. You'll have everything you need to ensure a comfortable stay.
The Space
The apartments have high-speed wifi, security cameras, electronic keyless entry and the common area for entertaining, relaxing or just taking in the scenery.
---
Invest in Your Language Journey
The Spanish and Go Immersion program offers flexible payment options for your convenience:
What's Included in Your Investment
---
Immersion Gallery
---
Are You In?
Oaxaca Fall, 2024 Beginner/Intermediate Retreat
Spanish And Go
Immersion:
OAXACA
Nov 8th-15th, 2024
Starting at $2,755
$380/ for 6 mo
(after initial $475 deposit)
Beginner/Intermediate
Designed for beginner to intermediate Spanish learners. Experience a week of immersive learning in Oaxaca City.
Accommodation options:
Note: For couples, select '2' and choose a private room at checkout.
Oaxaca Fall, 2024 Intermediate/Advanced Retreat
Spanish And Go
Immersion:
OAXACA
Nov 19th-26th, 2024
Starting at $2,755
$380/ for 6 mo
(after initial $475 deposit)
Intermediate/Advanced
Designed for intermediate to advanced Spanish learners. Experience a week of immersive learning in Oaxaca City.
Accommodation options:
Note: For couples, select '2' and choose a private room at checkout.
---
Don't see dates that work for you?
Click here and fill out the form to be notified about future opportunities.
---
Itinerary
Day 1: Arrival & Getting Settled
Day one we'll get settled in and get everything in place for a busy week of lessons and activities in the city.
We'll enjoy a delicious welcome dinner where we'll have time to get to know each other and review the activities for the week.
Day 2: Greetings and Goodbyes & Sightseeing
After breakfast, we'll have class covering some essential Spanish you'll need for the week. After the main lesson, we'll break the class into two small groups according to everyone's Spanish level for extra practice and more personalized attention. We'll have lunch downtown followed by a casual walking tour of historic Oaxaca. We like to call this activity "Oaxaca 101."
Today is full of opportunities for you to practice what you've learned from the days lessons in real life. As we wrap up the days activities, you're welcome to enjoy the city on your own or rest up a the retreat house. Each day during free time there's an optional activity for those of you who have more energy to keep exploring the city.
Day 3: Food and History Tour & Self Introductions
Day three starts with an exciting Oaxaca Street Food and History Tour. You'll develop a real understanding of what makes Oaxaca such an important city in Mexico while enjoying the local cuisine. Bring comfortable shoes! We'll be doing lots of walking, but it'll be worth it.
We'll go back home for a short siesta break, followed by a lesson on Self Introductions and Talking about Yourself. After the lesson, we'll break the group into two smaller groups for extra practice. The rest of the day is free for you to enjoy the city on your own, join us for our optional activity, or rest.
Day 4: Ordering a Meal & Chocolate Making
After breakfast, we'll help you master ordering food in Spanish. Get ready to learn about Mexican table etiquette and some of the most traditional dishes of the country. We'll have our second lesson in smaller groups and then we'll go out to an authentic Mexican restaurant to practice what you've learned.
After lunch, we'll immerse ourselves in the process of chocolate making. You'll learn how to make delectable chocolate from start to finish. Discover the different cacao beans, how to toast and grind them, and make your very own cup if hot chocolate from scratch. Then join us for an optional activity planned for the night or take some time to discover Oaxaca at your own pace.
Day 5: Monte Alban, Mole, & Shopping in Spanish
Day five starts with a visit to the ruins of Monte Alban after breakfast. This is the most significant archeological site in Oaxaca and one of the most important archaeological zones of Mesoamerica which was designated a UNESCO World Heritage Site in 1987.
For lunch, you'll get a chance to try Oaxaca's most acclaimed dish, Mole. Layered with unique and different flavors, Mexican mole sauces can be complex and even mysterious. The most traditional recipes are quite labor-intensive and used to be prepared as a community event. Get ready to try not just one, but seven of the most famous different types moles of the region.
We'll have some free time after lunch followed by a lesson on How to Go Shopping in Spanish.
Day 6: Mezcal Day & Asking for Directions
Today is dedicated to Oaxaca's favorite drink, mezcal. Learn all you need to know about how this ancient alcoholic beverage is fermented and distilled in small batches by expert in the craft.
After breakfast, we'll continue to embark on the mezcal journey. You'll have the opportunity to try a variety of artisan mezcals along with an explanation of what makes each one special.
Once we're back home, we'll take a short break followed by our lessons on How to Ask for Directions in Spanish.
The rest of the night you have free time to enjoy the city on your own or rest up at the house.
Day 7: Project Presentations & Our Last Full Day in the City
Day seven starts with breakfast and our big and small group lessons where you'll get ready to present the final project you'll be working on throughout the week.
After the presentations, we'll get together for lunch and you'll have time to explore and practice with the locals what you learned during the retreat. You can use this time to do any last minute shopping, packing, or sightseeing.
We have optional activities you can join before getting together for our good-bye dinner downtown.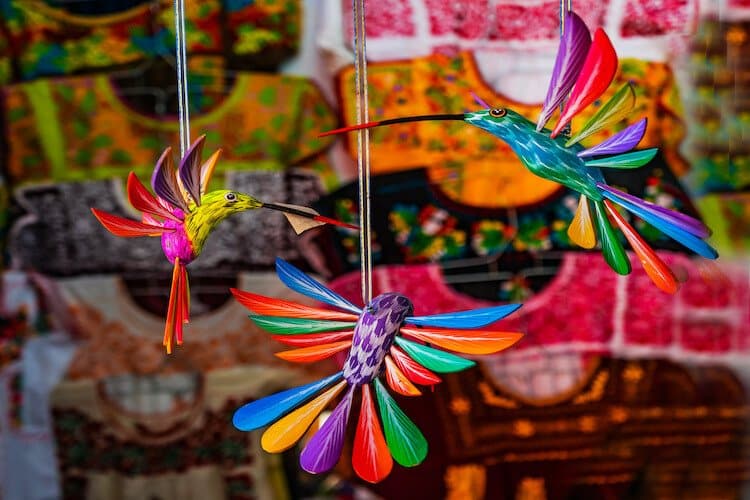 Day 8: Departure
Enjoy an easy self-serve breakfast and coffee early in the morning. This is the end of the adventure. We'll have to pack our bags and say our goodbyes.
Check out from the house is any time before noon. Our private driver will pick you up and take you to the airport.
---
Frequently Asked Questions
Q: When will the next retreat take place?
A: Our current retreat dates are listed here. If these dates don't work for you, please sign up using this form to be notified of future retreat opportunities.
Q: Which week is right for me?
A: Our Beginner/Intermediate program is for students with limited Spanish skills who may need explanations in English during tours or classes. Our Intermediate/Advanced program is for those comfortable expressing ideas in Spanish and looking to enhance their abilities further.
Unsure which week suits you best? Schedule a 15-minute placement call here, and our team will assess your level and help you choose the right experience.
Q: Where will we stay? Can I choose my own housing?
A: Housing varies by trip. We typically rent a house with ample space for everyone or host retreats at a hotel. You'll be paired with another group member or your plus one. Contact us for special accommodation requests.
Q: Can I bring someone with me?
A: Yes, but your guest must also register for the retreat separately, even if they don't participate in the activities.
Q: Are there daily formal lessons?
A: Yes, there are daily group lessons, activities, and personalized sessions based on skill level. Classes may be in the morning or afternoon, depending on the day's activities.
Q: How long are the activities each day?
A: We have 5-6 hours of planned activities, including lessons, tours, and other events. There's always free time to explore or rest.
Q: Is this immersion trip suitable for beginners?
A: Absolutely. We recommend Margarita Madrigal's book for absolute beginners. Our teaching method focuses on spoken language with practical phrases and expressions, benefiting all levels.
Q: What about insurance?
A: All participants must provide proof of travel insurance. We recommend SafetyWing for coverage, which typically costs under $45 for our retreats.
Q: How much does it cost?
A: Prices vary per retreat. Fill out the form above for the best price and early bird offers. Payment plans are available.
Q: What is your refund policy?
A: The $475 USD deposit is non-refundable after 30 days. Remaining payments are refunded based on cancelation timing (60+ days before the program = full refund, 30-59 days before = 50% refund, less than 30 days = no refund). See our complete Refund Policy here for full details.
Q: Is Mexico safe?
A: Your safety is our top priority. We handpick retreat locations based on our familiarity and close ties. Our team is well-acquainted with host cities to ensure a comfortable and safe experience. While no travel is without risk, we strive to minimize any concerns.
Q: What's the weather like in Guanajuato City during the retreats?
A: Guanajuato City enjoys a pleasant climate throughout the year. Our retreats are carefully scheduled to avoid the rainy season, ensuring you have the best experience possible. During the retreats, you can expect mild to warm temperatures with plenty of sunshine, making it ideal for both indoor and outdoor activities. However, it's always a good idea to check the local weather forecast before your trip and pack accordingly.
Average Climate in Oaxaca City
Q: Which airport should I fly to?
You'll want to fly to the Oaxaca Xoxocotlan International Airport (OAX). Our driver will be there waiting for you.
---
---