The Digital Nomad Lifestyle: Pros, Cons, and Staying Safe
The digital nomad lifestyle has been gaining popularity in recent years, and my wife and business partner, May, and I have fully embraced it. We run our online business, Spanish and Go, which includes a podcast, YouTube channel, blog (the one you're reading right now!), and in-person Spanish Immersion Retreats. As digital nomads, we've definitely experienced the positives and negatives of this way of life. In this article, we'll share our insights and some personal anecdotes so you can get a better idea of what working on the road is like.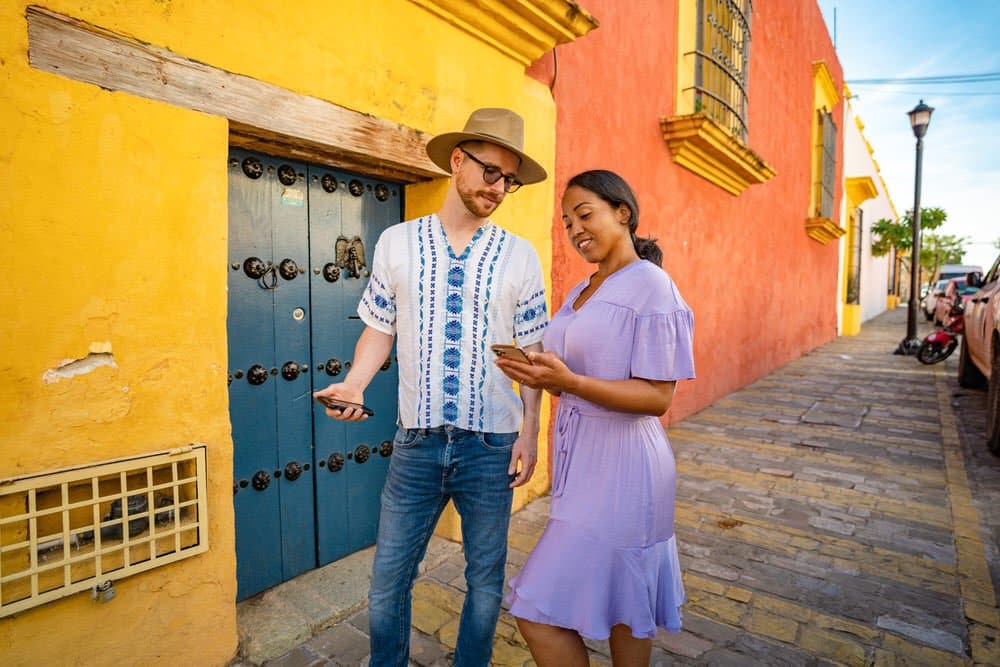 Positives of the Digital Nomad Lifestyle
1. Flexibility and freedom
Our digital nomad lifestyle has granted us incredible flexibility and freedom. We've set the ambitious goal of visiting every Spanish-speaking country and have even obtained multiple residencies in the process. May holds both Mexican and American citizenship, while I'm working towards my second citizenship. Having multiple citizenships provides a safety net in times of political uncertainty, and having strong connections to multiple countries helps make becoming a dual citizen much easier.
2. Travel opportunities
Not only do we get to choose our next travel destination, but sometimes brands and governments sponsor our trips. For example, Worldpackers and the tourism board for Guatemala both partnered with us to showcase travel and study abroad opportunities in the country.
3. Networking and collaboration
We've met some amazing fellow digital nomads and content creators along our journey, such as Ben and Marina from the Notes in Spanish podcast, and world-famous polyglots Benny Lewis and Steve Kaufmann. We've also connected with incredible fans of our work while traveling. We may be a bit biased, but people who travel often have the best stories to tell and the most interesting backgrounds.
4. Cost-effective living
Living as digital nomads allows us to save money compared to a more traditional lifestyle in the U.S. We use websites like Trusted House Sitters to care for people's pets in exchange for free accommodation, significantly reducing our cost of living. This website alone has saved us thousands of dollars as we're often able to find sitting opportunities that last for several weeks or even months. Also, finding exchange opportunities with website like Worldpackers can save you a ton of money on accommodations and give you a more authentic experience while traveling.
Negatives of the Digital Nomad Lifestyle
1. Inconsistent income
When COVID-19 hit, we had to cancel all of our scheduled Immersion Retreats, our YouTube revenue was cut in half, and sponsorships dried up. We had to find alternative ways to sustain our business during this challenging time. Unexpected hurdles like these are par for the course when you run your business online. Revenue streams can dry up on a dime, and you have to be prepared to pivot to survive. For example, we used the pandemic as an opportunity to launch our podcast and start our Podcast Membership for people who wanted extra materials to help drastically improve their ability to understand real Spanish conversations.
2. Lack of stability
One of the most difficult aspects of the digital nomad lifestyle is the lack of stability. Constantly changing environments can disrupt our daily routines, such as my morning meditation, reading, writing, and exercise. I'm not the same person if I don't maintain at least a few of my morning routine elements, and I don't mean that in a good way. If there's one thing I miss from living in just one city, it's the stability.
3. Work-related challenges
Fast internet and a quiet space for recording our podcast are essential for our business, but these can be hard to find. In rural Colima, for example, slow internet speeds and background noise from barking dogs or crowing roosters can make recording our podcast episodes challenging to say the least.
4. Visa and legal considerations
Traveling to certain countries can be complicated due to visa requirements and restrictions. Our trip to Nicaragua during the pandemic was particularly stressful, as the government required a PCR test submitted 48-72 hours before boarding the airplane. Despite having a negative test in hand, the government had not yet approved our travel, causing a major headache. These types of challenges can pop-up when you're least expecting them, as every government has their own rules and how they enforce them.
Staying Safe with SafetyWing Insurance
Don't Forget to Secure Your Trip!
Before embarking on your digital nomad journey, make sure you have travel and medical insurance. We recommend SafetyWing for several reasons:
Affordability: SafetyWing offers comprehensive protection at a fraction of the cost of traditional travel insurance plans.
Subscription model: You're charged automatically every four weeks, rather than paying upfront for a whole year. This flexibility is ideal if you're unsure about the duration of your travels.
Purchase while traveling: Unlike most insurance companies, SafetyWing allows you to buy a plan while on the go. Coverage begins almost immediately, while competitors often require a waiting period. This offers peace of mind and flexibility wherever you are.
Conclusion
The digital nomad lifestyle has its pros and cons, but for us, the benefits outweigh the drawbacks. The flexibility, freedom, travel opportunities, and cost-effective living have enriched our lives and allowed us to pursue our passion for connecting people with Spanish-speaking cultures. However, it's crucial to acknowledge and prepare for the challenges, such as inconsistent income, lack of stability, work-related difficulties, and visa complications.
So, if you're considering a shift to remote work or freelancing, weigh the advantages and disadvantages carefully. The digital nomad lifestyle may not be for everyone, but for those who embrace it, the rewards can be life-changing. Just remember to stay safe, plan ahead, and make sure you have the right insurance in place to protect yourself and your loved ones as you explore the world.
Now, go forth and embark on your digital nomad adventure, secure in the knowledge that you're prepared for both the benefits and challenges that lie ahead. And don't forget to check out SafetyWing insurance to keep yourself covered as you work from anywhere and embrace the digital nomad lifestyle. Safe travels!